Uplogix recently announced interoperability of Winegard auto-acquiring antennas with the Uplogix remote management appliances. This means the appliances are able to monitor parameters on the antenna controllers and issue commands to enable, reposition, retarget, stow the antenna and more. This functionality allows operators to control remote equipment as if they were onsite.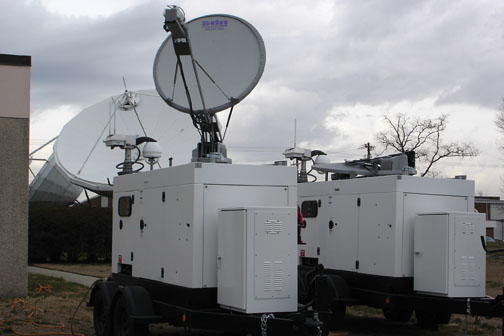 Uplogix Local Management works with Winegard auto-acquiring antennas.
Uplogix Automation
This remote management of the antenna (plus associated satellite modems and IP networking gear) is important to ensuring uptime as satellite kits are often deployed in remote conditions and/or without a technician onsite. Frequently they are used in the energy industry for communications from a production site, or in emergency communications to provide broadband access in situations where the primary infrastructure is impaired, down or non-existent.
The customizable rules engine in the Uplogix appliance makes it possible to create specialized, automated operations, such as stowing an antenna on a satellite truck or trailer when the power is cut in preparation for travel.
Always in touch and in control
The integration of Uplogix with an out-of-band connection provides persistent management access to remote satellite infrastructure. This means troubleshooting steps that used to require and onsite technician can now be conducted by the service provider from their operations center.
One example of an Uplogix customer utilizing the enhanced interoperability is Data Technology Solutions (DTS). They use Winegard antenna systems as part of their portfolio of connectivity services for oil and gas, maritime and disaster recovery. With Uplogix, they have a high level of visibility and manageability of their fleet of Winegard systems. This means increased uptime, reduced support costs and happier customers.