The Uplogix LM80 Local Manager
Uplogix' new Local Manager (LM), the LM80, is the replacement to the 500. local management solutions can automate a majority of the routine maintenance and recovery tasks of an IT admin, but faster, error-free and at a fraction of the cost. Uplogix reduces management complexity by delivering integrated, remote management solutions to provide secure remote access and local, in-depth monitoring, as well as configuration, fault and service level management.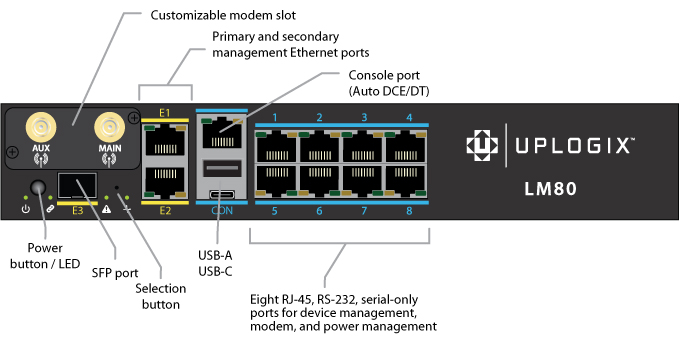 System
Management interfaces: Supports up to 8 devices via serial (RS-232); Two 10/100/1000 BaseT Ethernet interfaces (with failover support) and one RS-232 console port; One SFP port
On-board storage: 256GB NVMe supporting TCG Opal 2.0, 256-bit AES encryption
Peripheral connectivity: One USB-A port, one USB-C port
One option slot (RS232; V.92, cellular, and fiber cards available)
Dimensions and Weight
Height, Width, Depth: 43 mm (1.7 in.) x 254 mm (10 in.) x 163 mm (6.4 in.); 1 rack unit (1RU)
Weight: 1.2 kg (1.7 lbs.)
Operating Environment
Power Supply: Internal universal power (100-240 VAC, 50/60 Hz, included) 30W
Operating: 0° C to 45° C (32° F to 113° F) at mean sea level, 20% to 80% relative humidity, non-condensing
Non-operating: -30° C to 60° C (-22° F to 140° F) at mean sea level, 90% relative humidity, non-condensing
Regulatory
Emissions: FCC class A, CE, TUV
RoHS Compliant

Configurations and Accessories
Verizon/AT&T Network CAT-4 combo modem
With up to 150 Mbps download/50 Mbps upload speeds, you can deploy one modem for LTE high speed out-of-band and choose which provider works best at each location. Two high gain external antennas included.
Sprint Network CAT-1 Modem
LTE CAT-4 Modem for EU/AUS
Verizon/AT&T CAT-M1 combo modem
Fiber-E Carrier Module (SFP)
RS232 Module
V.92 Module
Uplogix LM80 Accessory Kit
1 ea Power Cord
2 ea Mid-Mount Rack Ears
4 ea Mounting Screws
1 ea USB-A to USB-C cable
1 ea Connection Instruction Sheet
1 ea Warranty Booklet
Uplogix attacks the challenges of network management from a different angle. Take a few minutes to browse through our Data Sheets, Case Studies and additional resources to see for yourself.