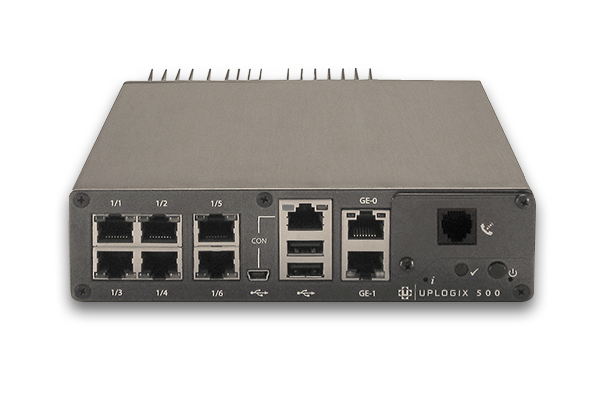 The Uplogix 500 Local Manager

Uplogix is created, coded and constructed in Austin, Texas.
The Uplogix 500 is a full featured, compact and cost effective Local Manager capable of managing six network devices including a managed power supply. This smaller version of the Uplogix 5000 is well suited for deployments that have physical space limitations, or in non–racked environments. It is ideal for branch offices and remote applications where space is at a premium.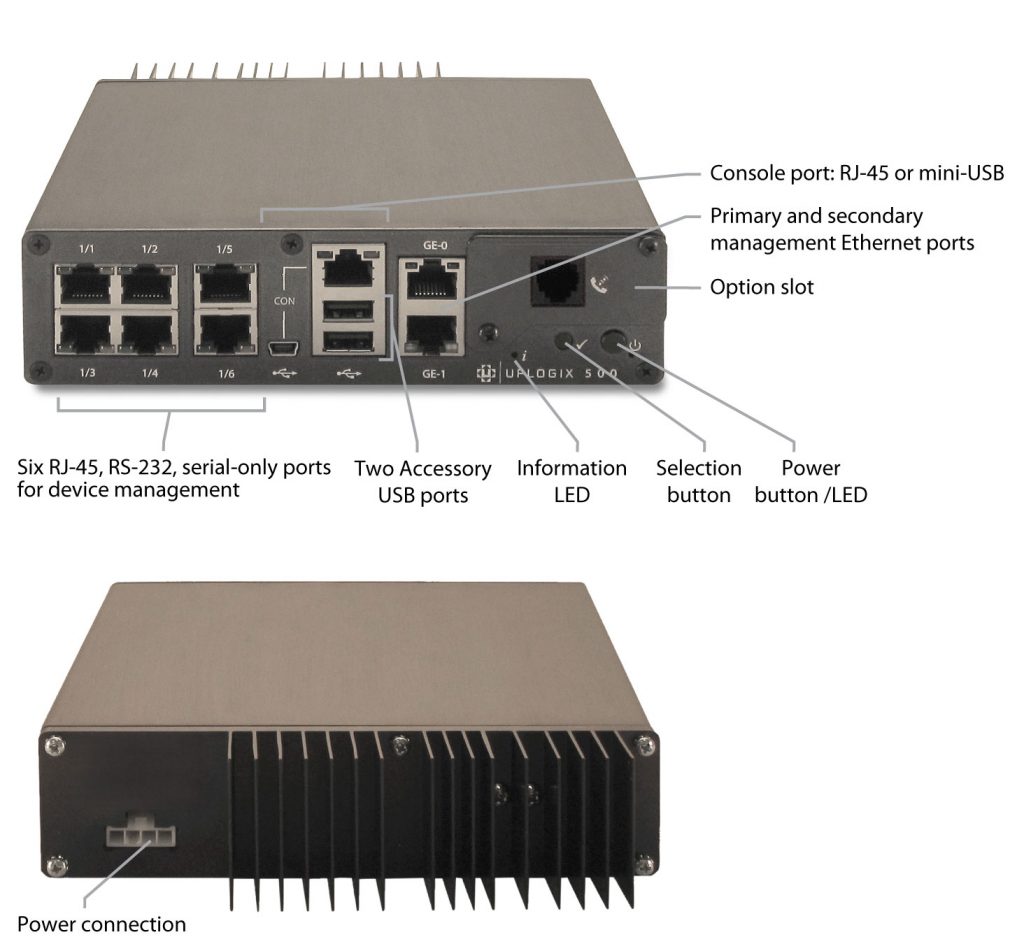 System
Network interfaces: Supports up to 6 network devices (including a managed power supply) via serial (RS-232)
Management interfaces: Two 10/100/1000 BaseT Ethernet interfaces (with failover support) and one RS-232 console port
On-board storage: 30GB SSD with available 256-bit AES compliant data encryption
Peripheral connectivity: One RS232 power management port, one RJ-11 modem port, and two USB ports
One mezzanine option slot (RS232; V.92, cellular, and fiber cards available)
Dimensions and Weight
Height, Width, Depth: 43 mm (1.7 in.) x 165 mm (6.5 in.) x 134 mm (5.25 in.); 1 rack unit (1RU)
Weight: 1.2 kg (1.7 lbs.)
Operating Environment
Power Supply: External universal power adapter (100-240 VAC, 50/60 Hz, incuded) 20W (68.24 BTU)
Operating: 0° C to 45° C (32° F to 113° F) at mean sea level, 20% to 80% relative humidity, non-condensing
Non-operating: -30° C to 60° C (-22° F to 140° F) at mean sea level, 90% relative humidity, non-condensing
Regulatory
Emissions: FCC class A, CE, TUV
RoHS Compliant

Configurations and Accessories
LTE Cell Modem Kits
Penta-band Modem Kit
Fiber-E Carrier Module (SFP)
RS232 Module
V.92 Modem Module
Uplogix USB Handheld LCD/Keypad Module
Temperature & Humidity Sensor
LEO-500 Iridium Satellite Modem Kit
Uplogix 500 Mid-Mount Rack Kit
Uplogix 500 Accessory Kit
1 ea Power Cord, adaptor
1 ea Rack Side Mount Ear
2 ea Mounting Screws
1 ea DB9/RJ45 Adaptor
1 ea Connection Instruction Sheet
1 ea Warranty Booklet
Uplogix attacks the challenges of network management from a different angle. Take a few minutes to browse through our Data Sheets, Case Studies and additional resources to see for yourself.