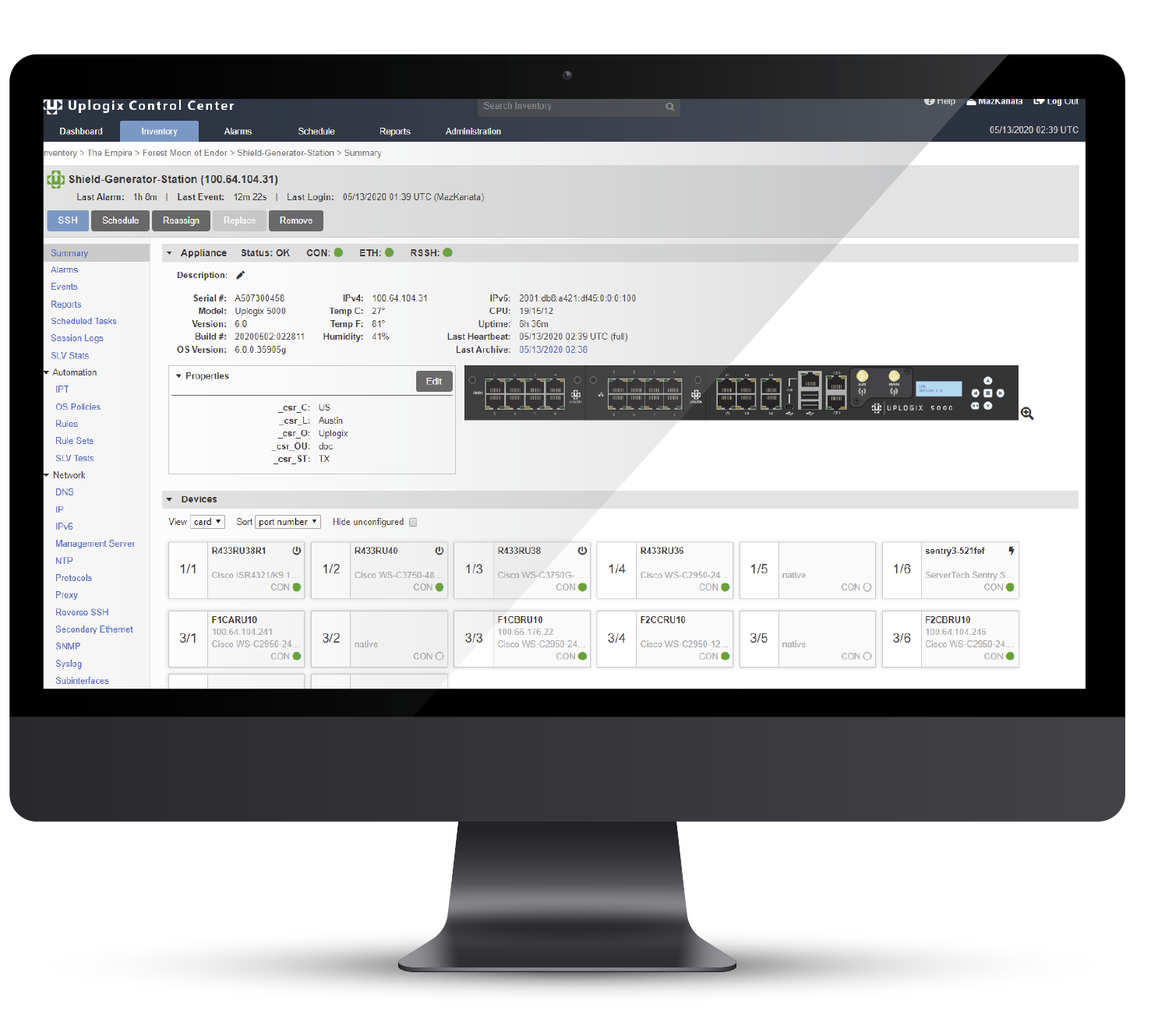 The Uplogix Control Center
The Uplogix Control Center enables out-of-band management by providing a centralized point of control for all Uplogix Local Managers and through this, of managed devices deployed throughout your distributed IT environment. With its web-based graphical user interface (GUI), Control Center puts IT administrators in control of real-time data to easily manage, configure, and control all network devices and servers connected to Uplogix Local Managers.
Uplogix Control Center is deployed on a pre-configured, dual CPU, rack-mountable server, and includes an embedded Oracle database engine. It is also available as a VM to run on a customer-provider server. Consult with Uplogix Professional Services for minimum requirements for a UCC VM installation.
Control Center Key Capabilities
Single interface for centralized management | Consistent, enterprise-wide point of control for configuring administrative policies for and scheduling all maintenance, management, configuration, and recovery tasks performed by Uplogix Local Managers. Simple point-and-click interface for executing enterprise-wide management tasks, such as distributing patches, resetting passwords or performing configuration changes.

Seamless Integration with centralized systems and network management consoles | Serves as a point of integration with other management systems and solutions; alarms and events appear as if they came from the managed device itself.

Flexible Reporting | Robust and customizable reporting of event, alarm, and device statistics, network service level measurements and the operational status of your Uplogix local Managers across the enterprise

Extensible Automation | Simple interface for users to define custom actions for Uplogix Configuration Management & Recovery – Archives and stores configuration files for all managed devices and can quickly restore good working configuration file to a managed device via the Uplogix Local Manager

Compliance Reporting | Archives all session logs from Uplogix Local Managers and Control Center for auditing and compliance purposes

Persistent Connectivity | Serves as a central proxy for seamless in-band or out-of-band communication with Uplogix Local Managers.
Uplogix Control Center – Enterprise

Dell R430 w/Uplogix licenses for unlimited Local Managers on this server

Uplogix Control Center – Standard

Dell R430 w/Uplogix licenses for up to 50 Local Managers
Uplogix attacks the challenges of network management from a different angle. Take a few minutes to browse through our Data Sheets, Case Studies and additional resources to see for yourself.