Uplogix Support & Maintenance Benefits
Uplogix customers have access to a variety of support resources, including self-help knowledge bases and documentation through the Uplogix Support site, phone and e-mail support for troubleshooting or configuration assistance, and onsite visits by support technicians.
Support Resources
Lifetime Hardware Warranty
For customers with continuous and current maintenance subscriptions, Uplogix Local Managers (LMs) are covered by a lifetime hardware warranty. Any LM that fails will be repaired or replaced with a functionally equivalent new or refurbished LM at no charge through the Uplogix Support Return Material Authorization (RMA) process.
Uplogix Support Site
The Uplogix Support Site is available 24/7 at support.uplogix.com. Customers can request up to 10 individual accounts. Customers have access to the following:
Product Documentation | Includes user, installation, and reference guides as well as third-party documentation. Device-specific configuration guides and advanced-topic discussions are also available.
Knowledge Base | A constantly updated repository of common issues/solutions, tips & tricks, configuration notes, and important software notes. Also included are product-extending custom rules and configuration examples.
Software Updates | The most recent revisions of Uplogix Local Management software are available for download. Release notes are provided for each version of software.
Support Cases | Customers can open support cases through a short form. Uplogix Support will be automatically notified of the new case.
Technical Services
For issues that extend beyond the scope of normal technical support, Uplogix provides technical services that can include the following:
Deployment Planning | Assist in the integration and deployment of the Uplogix platform into the customer's network.
Device Management | If the included rules on Uplogix Local Manager don't match the customer's expectations, we can help create new rules.
Onsite Repairs | In extreme cases, Uplogix will dispatch a technician to the customer's site for hardware repair or replacement.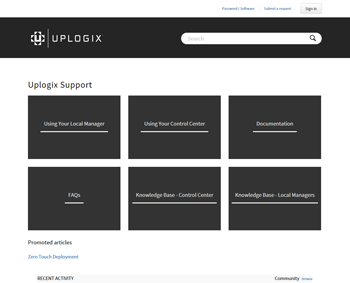 Live Support
US-based Uplogix Support Specialists are available via telephone and e-mail, 24 hours a day, 7 days a week.
Phone Support:
+1 888.663.6869
512.857.7070
By E-mail:
support@uplogix.com