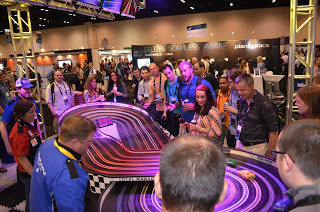 High stakes racing in the Uplogix booth. Winners took home
flying chickens, medals, or trucker hats.
This year's Cisco Live in Orlando was another opportunity for us to share the Uplogix vision of how to manage a network. The attendees in the World of Solutions are a sharp group — they tend to quickly understand how we're different and quickly make the jump to some of the cool things that are possible with Local Management. Plus, they are a fun-loving bunch.
We decided months ago to do something a little different this year in our booth. We rented a slot car track and dressed it up with stage lights and some on-track video cameras to catch all the racing action on a bank of monitors over the track. With Uplogix demo stations as bookends for the track, racing ran continuously through the show, From the packed opening hours right up to the point we pulled the power as the show ended, we had cars racing through the figure-8. Our guess is that we ran close to 100 miles over four days and five lanes of racing.
Take a better look at our time at Live in these Facebook albums.
So what did we learn this year?
Cisco Live attendees like slot car racing. "I haven't done this since I was a kid," was a common statement.
Not all attendees have driving skills. Check out some of the videos for evidence of this. That sharp turn in the tunnel was the biggest challenge.
M2M is going to be huge. John Chambers, CEO of Cisco, said in his opening keynote that 45% of the 50B connections in the 2020 Internet of Everything will be M2M connections.
This one is pretty exciting for a company like Uplogix. The case can easily be made today that our network automation is really an M2M application. Beyond our high-resolution monitoring of managed networking devices over a console connection, we also have the flexibility to manage many other types of devices. This is the case in applications currently using Uplogix to monitor industrial controllers on pipelines and satellite antenna hardware on land and at sea. Machines talking to machines, and in our case going beyond talking to managing them.
The list of things we learned goes on. A couple of Uplogix people were busy in classes during Live, keeping up-to-date on Cisco gear while our business folks were busy maintaining relationships and making new ones. We talked with existing customers, potential customers and lots of interested Cisco employees involved in everything from connected cars to training.
One final thing we learned
was that the relatively new singer for Journey — the one they found on YouTube? He can really sing. We'll see everyone again next year at Cisco Live 2014 in San Francisco.