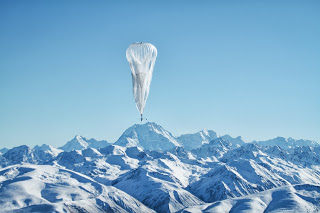 Photo courtesy of Google.
Google recently announced plans to provide wide-area Internet service to under-served regions via balloon-based wireless radios, in the cleverly named Project Loon.
With two-thirds of the world's population still not connected, Google says the idea is to find a more cost-effective way to offer Internet service utilizing balloons floating above weather systems and the majority of air traffic at an altitude of about 20 km. Each balloon is expected to provide 3G speed connections across an area 40 km in diameter. The potential drifting of the balloons is expected to be controlled with altitude changes between predictable high altitude wind currents.
A solar collector powers the balloon's systems by day while charging a battery for nighttime operations. The panels produce 100 Watts of power in full sun.
An experimental pilot starts this month in New Zealand in the Christchurch and Caterbury areas with 30 balloons beaming Internet to a small group of testers.
Benefits of going the 'loon route over expanded satellite-based services include lower infrastructure costs, and less round-trip time from ground to radio and back. With multiple balloons, there is also the opportunity for higher capacity via a multiplicative effect associated with wireless meshes.
No word yet if the balloon kits are going to include Local Management, but it's clearly an ideal use case. At only 1.7 pounds, an Uplogix 500 Local Manager would provide excellent network automation and out-of-band access for the high altitude network.
After all, when your network is literally floating in thin air, downtime has a whole new meaning.