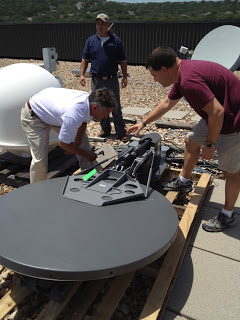 Unfortunately no automation here:
Putting a big, heavy antenna
on the roof in 100+ degree sun requires
physical effort.
One of the nifty things about local management from Uplogix is that we generally just don't care what kind of device we're managing. Console connections are available on many different devices from your standard networking gear to satellite communications components to SCADA systems and other machine-to-machine applications. They serve as a base-level management connection to the device.
Sure we have advanced drivers for some of the most popular vendors in networking and satellite, but generally if a device has a console port, we can do some level of data collection, monitoring and automated management. One time I even saw the founder of Uplogix get a glimmer in his eye when he noticed that a large LCD TV had a console port on the back. What possible application could we come up with for managing the monitor with Uplogix? He didn't have one, but the potential was there…
It's pretty common for our customers to ask us about what we could do for new devices. Sometimes it's as simple as plugging in and seeing if a local manager can do what they need right out of the box. Other times we can use existing advanced drivers to enable more robust management.
For example, one of our customers recently had questions about some additional features for managing a VSAT antenna. The antenna is designed to mount on a vehicle roof and is commonly deployed in the Energy industry. They offered to let us borrow one "to play with," and we happily accepted. After all, VSAT stands for Very Small Aperture Terminal. How big could this antenna be?
The next challenge was where to put it. While designed to be roof mounted, the antenna is used in stationary operations, so at least we didn't need to mount it on a truck. The roof of the Uplogix headquarters was the most likely location, alongside a collection of other antennas we have up there for testing.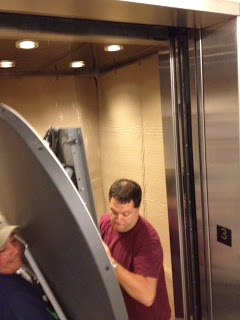 Action shot! Navigating the elevator door.
Next stop: the roof.
Here is where things got challenging — this antenna weighs about 150 lbs. and after unbolting it from the large shipping pallet, it's about six feet long by four feet wide and a foot tall. Remember, VSAT is defined as an antenna with a dish less than 3 meters, so I guess it could have been worse. Getting it off the pallet and into the elevator wasn't too tough, but the final flight of stairs up to and through the roof hatch was some real work for four people.
Emerging into the blinding sunshine on the shimmering roof — after all, we're talking mid-afternoon in August in Central Texas — we were able to walk the antenna over to its testing location. After about ten minutes of re-mounting the antenna for stability we retreated back to the comfort of our air conditioned offices. Now the real fun will begin as our engineering team "plays" with the new gear to bring advanced local management functionality to a new device.
What's the moral of this story? If you are already using local management, are we plugged into all of the gear that you care about? If you aren't using local management, check it out. Odds are we could automate some of the routine management tasks that are eating up the time and budget of your IT staff. And finally — if you work at Uplogix, don't forget your sunscreen in case you get "volunteered" for a trip up to the roof.