An article in the current issue of the IEEE newsletter, Smart Grid, describes the importance of network interoperability as a key to success to creating the smarter grid of the future.
"As information technology (IT) and operations technology (OT) converge in the smarter grid of the future, network interoperability will be the starting point and precondition for all else…"
At Uplogix we've already seen this demand from customers in the energy industry. As they push IP networking out into the field for data backhaul from SCADA systems it's a case of new vs. old, and often the IT staff vs. the operations teams. We've found that localized management can solve many issues that lead to downtime and truck rolls.
For example, the Uplogix platform connects directly to any device with a console port for real-time monitoring and to provide secure remote access. Know exactly what's going on with all equipment, all the time and be able to get to devices that need work — even if the network is down. In the smart grid, with more and more equipment pushed out to the edge, these features are critical to scale the network without scaling support costs.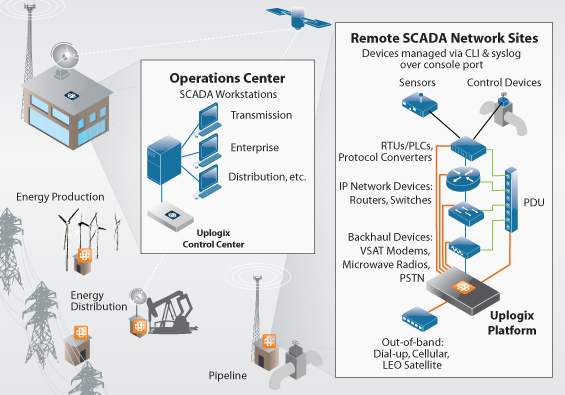 Secure remote access and automation for SCADA and hybrid networks makes any grid smarter
A key aspect of the smarter grid is security. Uplogix solutions enforce user access, authorization, and authentication privileges inside the firewall even when primary network connection is unavailable. All user access and changes made to SCADA and other managed devices are logged and reported to satisfy security and compliance requirements. Uplogix' core functionalities help meet NERC cyber security guidelines for Security Management Controls, Critical Cyber Asset Identification, and Elelctronic Security Perimeters that are insufficiently addressed by current technologies.
For more information about how Uplogix can help make your grid infrastructure smarter, check out the following:
The Uplogix booth at Entelec 2011 in Houston, May 25-26, 2011