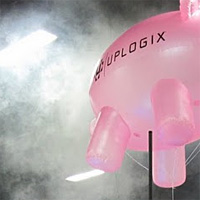 At Cisco Live in Las Vegas this year, you couldn't look in any direction without seeing or hearing about the Cloud. Granted some of the cloudiness above was coming from the Uplogix Be a Rock Star stage, but it seemed like most of the vendors in the World of Solutions had their heads in the clouds.
All the Cloud stuff is great, and about half of all Uplogix Local Managers are deployed in data centers positioned to support cloud infrastructure devices, but when your key business services live in the Cloud, don't overlook the importance of your branch office networks to get there.
Cisco predicts that business traffic will grow at a faster pace that IP WANs:
IP WAN will grow at 18% CAGR, while
Fixed business Internet access will grow at 19%, and
Mobile business Internet traffic at 79%
So if you are in charge of the average WAN, you are in big trouble in the worst case scenario, and best case, you'll need your network operating at its peak efficiency just to keep up. This means automating network management where possible to optimize IT spending on keeping up with strategic business needs, not on high cost tactical events like truck rolls and manual configuration changes.
With over 40% of internet traffic from video, and an increasing use of video conferencing in the workplace, automated monitoring of service levels from the user's perspective is a requirement. Your users expect, or will soon expect, high quality video on demand for collaboration and sales activities. Designing the right network is just the first step – delivering the expected performance is day-to-day.
These days, you've got to have your head in the Cloud, let Uplogix be your boots on the ground. See how we keep your network running with local management and automation for:
Configuration Management
Performance & Availability Management