Guided context-sensitive menus and dynamic graphics added to the Uplogix Control Center as well as expanded space for local storage of config and modern OS files, and new combo modems for out-of-band.
AUSTIN, TEXAS (May 12, 2020) – The latest version of Uplogix software, v6.0, is available May 12, 2020 with new functionality for an improved user experience in the Uplogix Control Center (UCC) and easier deployments when using cellular out-of-band. The v6.0 software will ship on all new Uplogix Local Managers and the UCC. It is also available immediately for customers to download and upgrade their existing deployments.
The Uplogix Control Center provides a single point of management for all Uplogix Local Managers and connected devices they are managing throughout a distributed IT environment. Uplogix v6.0 delivers extensive user interface improvements that tailor the UCC to the user's environment and activities.
For example, guided context-sensitive menus simplify tasks in the user experience making the deep functionality of the UCC even easier to navigate. Additional new dynamic components like a visual depiction of each Local Manager shows the real-time configuration of expansion bays, option cards and modems to provide context for remote hardware.
"The latest release of our software highlights what Uplogix does best," said Lisa Frankovitch Uplogix CEO. "We bring network-independence to the management of enterprise network infrastructure with easy to use, automated actions and secure remote access."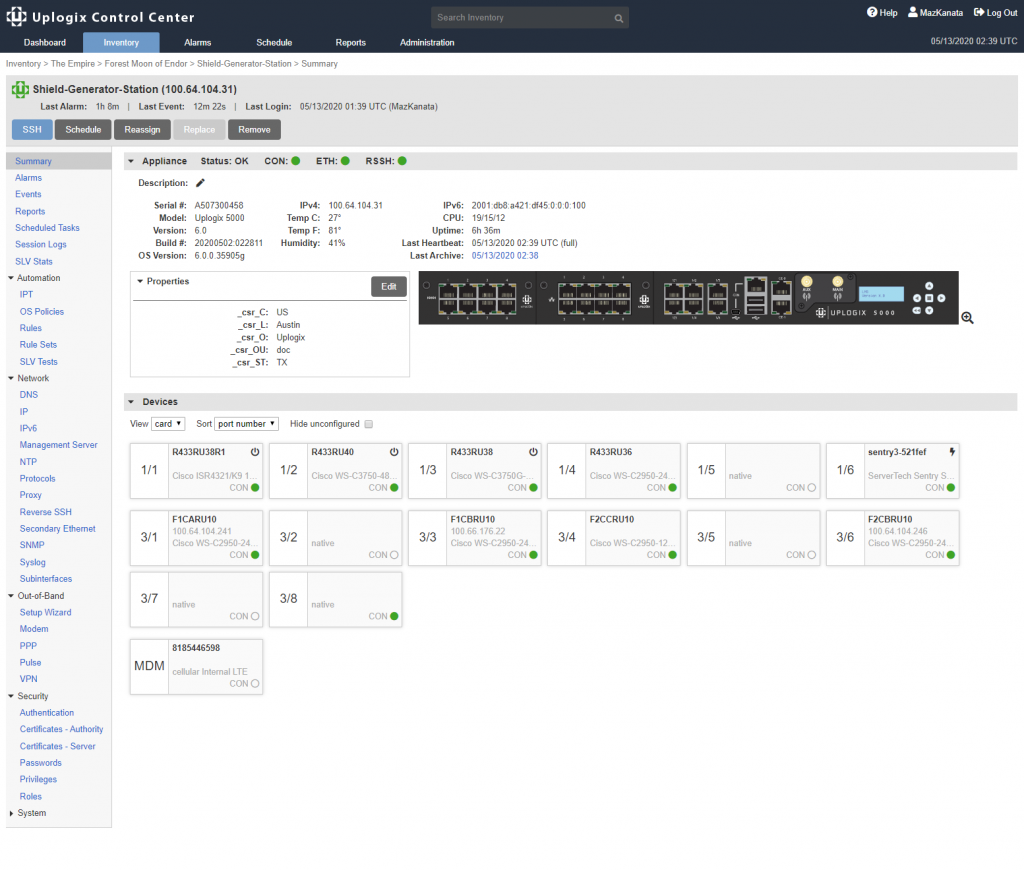 The Uplogix Control Center running v6.0
Uplogix saves configuration and OS files onsite in the Local Manager as well as backing up these files in the UCC. With modern OS files growing rapidly, the v6.0 software expands disk space and increases efficiency of config and OS file storage.
Users of the Uplogix SSH Terminal will no longer have to install Java for secure shell connectivity with their Local Managers. This enables enterprise IT groups to avoid conflict of different Java versions for management applications. Also, network teams using Uplogix will benefit from  the messaging features in v6.0. Notes can be shared in the UCC so that other users will be aware of activities in progress or scheduled for the future.
Out-of-band connections over cellular remain one of the easiest and most cost-effective ways to ensure a management connection when the primary network is down or degraded. Uplogix Local Managers feature a modular option slot so you can deploy the best out-of-band option for each of your locations. The release of the v6.0 software includes support for new cellular modem options:
Verizon/AT&T combo modem | With 150 Mbps download/50 Mbps upload speeds, you can deploy one modem for LTE high speed out-of-band and choose which provider works best at each location.
Verizon/AT&T Cat M1 combo modem | Designed for sites with signal challenges, the Cat M1 provides extended range and deep penetration in buildings and basements at a slower speed that is still sufficient for the efficient Uplogix out-of-band management traffic at 300 Kbps download/100 Kbps upload.
Sprint Cat1 modem | Our breadth of out-of-band options ensures that you can reach your gear no matter where it is. This modem features 10 Mbps download/5 Mbps upload speeds.
For more detailed information including a complete list of new features and improvements, please see the release notes in the Uplogix Support Knowledge Base or contact Uplogix Support.
About Uplogix
Uplogix is designed for the challenges of remotely managing enterprise network infrastructure while reducing cost, complexity and downtime. We go Beyond Out-of-Band providing network Independence for automated management actions with secure remote access. Complex networking tasks are simplified in an easy-to-use platform with US-based technical support.
Uplogix is created, coded and constructed in Austin, Texas. For more information, please visit www.uplogix.com.