[fsn_row][fsn_column width="12″][fsn_text]
Cybersecurity training classes were in session at the University of West Florida's Center for Cybersecurity as part of a joint effort between university and state agencies to strengthen the state's preparedness.
By providing the government workforce with the latest information and learning resources, the goal of the partnership is to utilize university resources to practice cybersecurity fundamentals and increase awareness. Topics include incident management, network defense, OS hardening, risk management, and cloud security.
The University of West Florida's Cybersecurity for All program adheres to the National Initiative for Cybersecurity Education (NICE) framework: a blueprint to categorize, organize, and describe cybersecurity work into Categories, Specialty Areas, Work Roles, tasks, and knowledge, skills, and abilities (KSAs).  The NICE Framework used in the cybersecurity training provides a common language to speak about cybersecurity roles and jobs. Facilities at UWF include a cybersecurity battle lab and cyber range where students of all types get hands-on experience dealing with threats for networks including public utilities, financial systems, air traffic control centers, chemical plants, and cyber operations centers.
The University is a customer of the Northwest Regional Data Center, an Uplogix customer and provider of IT and data center services for higher education, state government, K-12 school districts, local government and health care organizations. Based in Tallahassee, NWRDC promises leading-edge technology solutions at affordable pricing for government and educational stakeholders. This allows NWRDC customers to focus on their organization's mission and reduce or eliminate IT capital expenses and infrastructure costs.
The shared solutions offered benefit from Uplogix by reducing operational costs while improving service levels. Some of the reasons NWRDC chose Uplogix for their out-of-band management include:
Config management | Enable reliable enterprise-wide execution of configuration changes with a few clicks via the Uplogix Control Center's simple, web-based interface.
Firmware upgrades| Common change management tasks, such as distributing patches or password resets, can be scheduled and consistently executed across the entire infrastructure satisfying compliance audits.
Disaster recovery | Uplogix Local Managers deliver the widest array of on-demand WAN alternative network connection options including dial-up, cellular, and fiber providing reliable management connections to remote gear.
[/fsn_text][fsn_divider][/fsn_divider][fsn_text]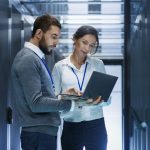 For more information on NWRDC's use of Uplogix out-of-band capabilities,
see the NWRDC Case Study.
[/fsn_text][/fsn_column][/fsn_row]