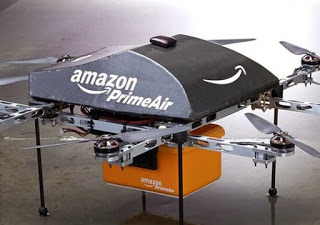 In a 60 Minutes interview that relatively few people actually saw, but many are now reading about, Amazon founder Jeff Bezos showed off a couple of Amazon delivery drones. The idea is that at some point in the future, one of these eight-rotor robots would fly a <5 lb. Amazon purchase to you in 30 minutes or less. While the pilot-less copters have been a PR coup for Amazon, it's an example of how automation can capture the imagination without actually delivering the goods. This is something all too familiar in the network management world.
Bezos said that he didn't want anybody to think the drone delivery service was just around the corner, but implied it's the law that's really holding things up. While it is currently illegal to fly a bunch of autonomous drones carrying packages, the FAA is working on drone rules, with first limited approvals potentially due out in 2015. Full-blown certifications aren't expected until maybe 2020.
So perhaps PrimeAir will be an option some day, but a lot of boxes will need to be checked first. Search "Amazon drone" and click on most any of the 436+ million hits for all kinds of scenarios that the little drones would need to successfully navigate. Check out the FAA's UAS (Unmanned Aircraft Systems) Roadmap for a few hundred reasons why this will take time from the Fed's perspective.
Still, it does look pretty cool in the Amazon video.
When we talk to potential customers about the automation capable in the Uplogix Local Management Platform, they start going through their own checklist of what it would take for them to have any confidence in network automation. Here are a few with parallels to PrimeAir:
Autonomy
Uplogix: Can't rely on the network for device access
PrimeAir: Large numbers of delivery drones need to fly themselves to be practical
Resiliency
Uplogix: Provides an alternate management access path if the primary link is down
PrimeAir: Needs to be able to find an alternate drop-off point if the primary is unexpectedly blocked, say by the kids playing football in the front yard
Intelligent, and reliable
Uplogix: Recognizes specific devices states and follows specified procedures when there are issues
PrimeAir: Large numbers of drones will need to be aware of the airspace around them and follow specific rules of the road like piloted aircraft
Security
Uplogix: Needs to be secure to ensure that only the right people have access to the right equipment, and document everything that happens to know who, did what, and with what impact
PrimeAir: It will probably take more than a tracking confirmation number that shows the 5 lb. parcel was dropped in your driveway and not on your roof. Maybe a video showing the delivery?
Anyway, you get the idea. New ideas are easy to shoot down, but good ones fire back with good answers to tough questions. At Uplogix, we've been doing this with our network automation for years. We'll see how Amazon does with their newest automated plans.