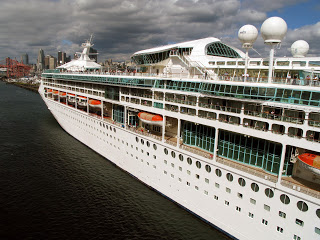 Uplogix provides automated device control and recovery
that is especially useful for maintaining satellite
connectivity and network uptime aboard cruise ships.
Spanish cruise line Pullmantur Cruises recently signed a new deal with Uplogix customer MTN Communications to enhance connectivity options for passengers ad crew onboard its fleet of ships. The expansion of broadband satellite services is just the latest in the 11 year relationship between satellite services provider and cruise line.
The deal is becoming more common in the cruise industry, where passengers are demanding connectivity not as a nice-to-have on their vacations, but as a requirement.
"While satellite technology is important, it is the services around the technology which will be key. Some vendors think we are only focused on technology but this is not true," said Juan Manuel Cabellero Patón, IT and business process director for Grupo Pullmantur. "We want to improve speeds, as well as access to apps like Facebook, for example. People need to think about the services that customers want."
Improvements in shipboard connectivity include satellite infrastructure, like moving from C-band to Ku-band technology, as well as more mainstream network connectivity like wireless access points, routers and switches. For Pullmantur, their goal is wi-fi coverage across 85% of all their ships. These floating hotspots aren't cheap. Patón says their estimate is that improvements will run $1 million per ship to deliver customers the Internet experience they expect.
One option for limiting satellite costs is for the ships to pick up land-based wi-fi when they are close to the coast, reserving the more expensive satellite access for times at sea. Such hybrid network systems mean more gear to manage aboard the ship.
This is an ideal use case for Uplogix. With local network monitoring, critical communications gear is always being managed. The Uplogix rules engine has been configured for hybrid situations where the change-over from one pathway (say the satellite connection) can be automatically transferred to another (a land-based wi-fi connection) when a signal is not only detected, but verified as reliable enough to support the ship's traffic.
For an example of how this works, see the video, Rules-based antenna retargeting with Uplogix.