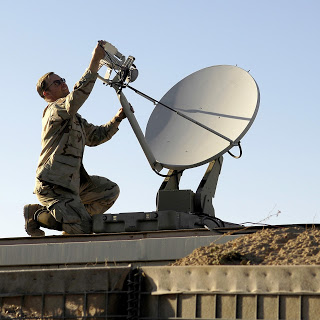 Stationary autoacquire antennas provide delivery of
broadband satellite-based Internet services
into mobile environments virtually anywhere.
Local Management software now supports the DirectPoint mode for TracStar satellite antennas. This functionality adds to the robust support Uplogix already provides for satcom systems in use worldwide in energy, military and telecom deployments.
The DirectPoint functionality is designed to enhance satellite acquisition accuracy and reduce startup time by coupling the antenna with the satellite modem. With DirectPoint, the antenna goes directly to the data satellite by using enhanced communications capabilities with intelligent modems. This makes it possible to acquire, lock and peak on the specific satellite without the traditional pre-alignment stage.
The Uplogix DirectPoint support for the TracStar AVL Antenna Controller Unit (ACU) adds to the specialized features Local Management delivers for both fixed (autoacquire) antennas and the stabilized antennas common in maritime applications. Both types of satcom deployments benefit from the local, direct connections to network and communications devices made by the patented Uplogix platform.
Uplogix benefits for satcoms include:
Secure and persistent access to remote devices. When the network is up and running, admins access devices through the Uplogix Local Manager over the network. If that connection is broken or not yet established, the appliances "dial-out," providing a two-way, secure management link independent of the primary network. In satellite deployments, this out-of-band connection is usually over Iridium, but could also be a cellular modem connection.
Automated device control and recovery. Uplogix monitor devices 24×7 over the console port and take recovery steps when issues are detected. With its embedded rules engine, Uplogix Local Managers can be configured to take advanced actions like blockage zone detection, notification and recovery.
Uplogix customers use Local Management for satellite installations spanning the globe in a variety of environments from ships in the Gulf of Mexico, to drilling platforms in the North Sea and military bases in hostile lands.
For more information, Uplogix customers should visit the Uplogix Support Site and reference the Uplogix Configuration Guide for the TracStar Antenna Controller Unit for complete installation and configuration information.