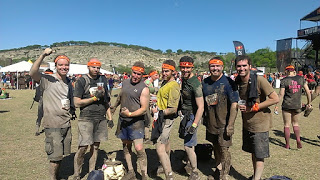 Definitely there and in the moment — the Uplogix
Tough Mudder team after completing the 2013
race though mud, hills, ice, electric shocks and more.
See more on the race.
A couple years ago we tried out a slogan at Cisco Live that was "We're there… so you don't have to be." The concept of using Local Management to "be" places without actually traveling there still applies today. Our out-of-band management features not only mean that we operate independently of the network, but also that we can connect you to that gear if and when that network is down. With Uplogix there, we should be able to fix the problems or provide you with tools and access to fix problems remotely.
Traditionally "being there without being there" was the role of a console server. While traditional console can provide basic access to remote devices, it's still a manual process totally dependent on a human. Improving on this accepted norm, Uplogix gives you all the functionality of a high-end console server — and that's just the start. Here is a quick comparison of Uplogix Local Managers to console servers.
Access
Console servers provide basic access to devices over the network. An out-of-band connection to the console server is necessary in case the network is down.
Uplogix utilizes the same console connections to devices as a console server providing secure access to remote devices. Out-of-band connectivity is also automated, with the out-of-the-box ability to dial-out over v.92, cellular, or low-earth orbit satellite. For devices without a console port or without a routable IP address, users can use port forwarding to securely access devices and manage them through the Uplogix Local Manager.
Device Control and Fault Management
NSM tools have robust algorithms, but depend on the network to manage the network. Access technologies like console servers aren't well integrated with control software to make access seamless. They rely on custom scripting and the related headaches and risk of maintaining them to keep in compliance with policies. Plus, when there is a problem, people are required to do the work. Even at 2 a.m.
With Uplogix on-site at a remote location, it can perform a majority of the routine administration, maintenance and recovery tasks that an on-site technician would do today. Utilizing an on-board rules engine, Uplogix minimizes costly tech support calls and on-site visits to remote locations by diagnosing and fixing problems locally as well as automating routine maintenance tasks.
Security and Compliance
Console servers cannot log every action and protect the data that goes through it because they do not have a sizable hard drive, database, or enough memory to store data to prevent overwriting for compliance and root cause analysis. Console servers are called "dumb" because they don't have real-time automation "brains," process actions, and are designed just for pass-through access to devices.
Uplogix ensures that internal security and management policies are always enforced, even during a network outage. IT staff can control who has access to devices on the network, what they are doing while accessing the devices, and accurately and comprehensively report on all user interactions (IT staff and third party contractors) in order to satisfy security and compliance requirements.
It's OK to phone it in
Next time you are using a console server, or considering installing one, take a moment to think about what you are doing. With Uplogix it's possible to not only get access to remote gear, but also automate many of the maintenance and recovery actions that have required human intervention in the past. Unless you are looking to AVOID taking the easy way out, like say the Uplogix Mudder team, that console server is only going to ensure that you are bogged down with routine tasks and heavy IT lifting. Save the obstacles for a weekend race — use Uplogix to keep your network management clean and pain-free.