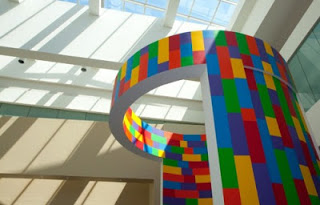 Last week was the Satellite 2013 Conference in Washington DC. Uplogix was there exhibiting in the large hall featuring a variety of vendors promoting everything from rocket launch vehicles to nondescript signal conversion widgets to air time. As usual, our message was a little different, but well received in the satellite market. There were some common themes to our conversations:
Dealing with great distances
While it's less than 500 miles straight up to reach the orbit of the Iridium satellite constellation, satellite networks are often deployed far from population centers and thousands of miles from supporting NOCs. Sending technicians out to remote sites for service calls is frequently expensive, and sometimes dangerous.
A time lapse from above the Uplogix booth
as things wound down at Satellite 2013.
At the Satellite show, the ability of Local Management to reduce the number of support trips for basic maintenance and recovery goes over big. We talked with existing customers that use our gear in the oil & gas industry to support the networks that are essential for drilling operations from the North Sea to the Niger River Delta. They have a classic use case for Uplogix. In the past, support of remote gear meant one of two things: 1) send out a technician prepared to deal with any problem, meaning they traveled with spare routers, switches, and satellite gear, or 2) try to walk someone onsite (not necessarily someone with any IT training), through troubleshooting an issue over a satellite phone.
With Local Management in the network and communications stack, they are able to monitor with much greater detail and frequency, spotting issues faster and dealing with them automatically. Plus, Uplogix can provide an out-of-band connection to the site over Iridium or Fleet Broadband that gives a remote technician the same access they would have to devices if they were onsite.
Comms on the Move (COTM)
Satellite communications is all about mobility as evidenced by the variety of exhibitors showing off new antennas for maritime use, low-profile arrays for vehicles and airliners, and increasingly, non-piloted aircraft. While we can't say that there is an Uplogix Local Manager winging its way over a battlefield today, there was considerable interest in the new hardware platforms, the Uplogix 500 and 5000.
Both the 500 and 5000 are smaller and lighter than previous Uplogix platforms, with the 500 delivering dedicated Local Management in a 1u device that's only about six inches wide and deep. Neither platform has moving parts, with 40GB solid state drives and fan-less cooling.
One person we talked with was interested in Uplogix providing functionality to allow him the remote control he needs to separate the infrastructure devices on a satellite trailer from the end-user devices. This would allow them to "lock-down" the gear that they don't want their customer to be able to access, because as everyone knows, if someone can get to a device, there is a good chance they are going to mess with it. It's kind of a Murphy's Law thing.
Unexpected applications and Black Ops (maybe)
Conversations about Local Management at conferences always turn up a few new applications. The Satellite 2013 Exhibition was no different.
One person we talked with was interested in potentially deploying Local Management in his satellite television business. The homegrown operation provides turnkey systems for a few niche markets including prisons. While not one of our typical locations for Uplogix, his issues are basically the same challenges of any branch office — no onsite IT staff to support a stack of gear. While his SNMP polling can tell him basic health information, at the end of the day, he's managing his network over the network. Plus, it's difficult to manage a growing business 24×7.
With Uplogix, the Local Manager would tell him exactly what device was having issues as well as provide access for remote troubleshooting. Sometimes, he has devices that just wear out. The onboard storage for previous configurations would allow him to have Uplogix automatically configure the staged replacement parts he already has onsite. With just a little direction, a prison guard could open the cabinet, unplug the device and re-plug in a spare. Uplogix would recognize the new device was missing a configuration and load it with the previous config. Movie night at the Big House is back on!
Other people walking around the Satellite show in Washington DC are less clear about their applications. We talked with a few people that worked for various acronym-named agencies or said they consulted for a organizations that would not be named. It was clear that they had applications that relied on secure networks with gear into the field. A flexible tool like Uplogix seemed to have great appeal for them. It makes sense think of the value of being able to deploy advanced communications without needing to send along a trained IT administrator. Uplogix could provide automated responses for level one issues and remote access for bigger problems connecting the best tech back at the home office, wherever that might be.
See you at Satellite 2014
We'll be back next year and we're looking forward to more interesting conversations with customers both current and potential, other vendors, and those more mysterious conference-goers.