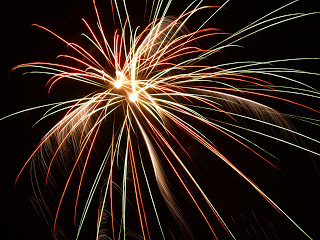 As 2011 closes, the long drought in Uplogix' hometown
of Austin, TX has subsided enough to lower the burn ban,
enabling us to celebrate with this photo!
It's hard not to look back at the end of a year, and for Uplogix, 2011 has been an eventful year. Some say that time in small companies passes like dog years — when your company is small and nimble, everything goes faster. Before we cover a few highlights of 2011, we'll send out a quick thanks to all of our customers, partners, employees and their understanding families that are continuing to support Uplogix and the mission to expand local management in networks all over the world.
Satellite Communications
Uplogix continues to find good traction in the satellite market. The vast distances and high costs of on-site support make local management a game-changer for VSAT service providers who are able to remotely provision gear and recover from issues — all with the confidence of connectivity over and out-of-band connection.
In 2011, Uplogix continued to expand the gear it can manage, including Intellian satellite antenna control units and arbitrators. To steal a quote from the press release:
"Intellian has deployed over 15,000 marine stabilized satellite antenna systems since 2005," said Eric Sung, president and CEO of Intellian. "We're excited to partner with Uplogix to bring remote access and control of these systems to satellite operators for even greater service quality and lower cost of ownership."

The Uplogix platform combines persistent localized management of devices—like Intellian VSAT antennas as well as the traditional IP networking gear common in today's maritime networks—with onboard intelligence to automate management, whether the network is up or down.

A customizable rules-engine makes it possible to create specialized operations, such as generating an SMS message when an antenna is in a blockage zone or loading a satellite modem's configuration when predefined conditions exist. Especially valuable in satellite-enabled networks, Uplogix includes an out-of-band connection to provide persistent management control of remote sites.
This year also saw increasing brand recognition and visibility in the satellite space at trade shows like Satellite 2011 and the Offshore Communications Conference, where we had the opportunities to demo gear and interact with current and potential customers. As a demonstration the importance of the satellite market for Uplogix, this year our largest customer is in the VSAT space.


Uplogix Goes Virtual
With the release of the Local Management Software version 4.4, we added the new ability to run Uplogix as a virtual machine (VM) on the Cisco UCS Express platform. Debuting on the rock star stage at Cisco Live in Las Vegas, this initial application of the virtualized Uplogix software runs on the UCS in a Cisco integrated services router (ISR). With the ISR providing the serial connections to managed devices and the Uplogix VM running on the UCS Express, the solution expands that hardware deployment options and increases managed port density to 48 per Uplogix Local Manager (LM).
The virtualization of the Uplogix software will enable additional new ways to deploy Local Management in the coming year. Today they are available as custom solutions that include virtual LMs on select platforms to exploit in-place console servers, and virtual Uplogix Control Centers. It's an exciting new, if virtual, world.
New Faces, New Places
The Uplogix executive team added two new members this year. Both Lisa Frankovitch (VP – Corporate and Business Development) and Jim Cahill (VP- Sales and Marketing) brought a career of experience in the tech industry to their roles and have had an immediate impact on Uplogix. 2011 was a year of new partnerships and customers, and Lisa and Jim have the airlines miles to prove it.
2012: A Year in Preview
As we close out 2011, the coming year promises to be another exciting one at Uplogix as we look to put seven years of work into just 12 months (remember – dog years?). We look forward to our customers continuing to find value in local management and explore new ways to increase uptime and reduce their service costs. New partnerships, the final completion of the FIPS 140-2 certification process, and additional product innovations are all in the plan for the upcoming year as we look to cram in more new users to our logo slide.
From all of us at Uplogix, thank you. We wish you a safe and happy holiday season and a prosperous new year.