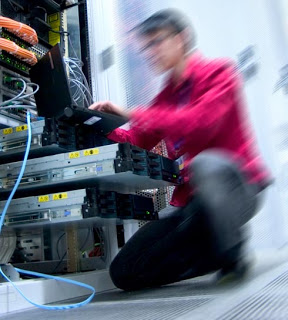 Will the biggest disruption of Cloud computing
be to the workforce?
There are countless articles on how Cloud computing will revolutionize the IT industry, but a blog by Larry Dignan, highlights a recent presentation at the Garner Symposium in Orlando that says that as servers become virtualized, so will the humans that currently support them.
The argument is that as more companies move to the Cloud, they will need fewer data centers. Since people run data centers, there will be fewer of those IT jobs as the number of data centers decreases to a smaller number of Cloud providers. The analogy came from the semiconductor industry, where many companies have shed theirs fabs, adopting a fabless strategy where their manufacturing is handled by a small number of large facilities providing chip-making services.
According to Gartner:
CIOs believe that their data centers, servers, desktop and business
applications are grossly inefficient and must be rationalized over the
next ten years. We believe that the people associated with these
inefficient assets will also be rationalized in significant numbers
along the way. We foresee a substantial reduction in the U.S. IT
workforce, especially among those supporting the data center and
applications, in end-user organizations. According to Gartner's 2011
survey of U.S. CIOs, "Reducing the cost of IT," "Reorganizing IT" and
"Consolidating IT operations and resources" were ranked high among their
top strategies. In the same survey, "Virtualization" and "Cloud
Computing" were the two top ranked U.S. CIO technology priorities; 83%
of U.S. CIOs estimated that their organizations would conduct "more than
half of their transactions on a cloud infrastructure" by 2020.
What's the moral of this story for IT professionals? Make yourself hard to live without. Embrace automation where you can to ensure you don't waste time doing tasks that can be automated. Use that time you are saving to innovate and become irreplaceable in your operation.
At Uplogix we've heard people react to the reliable automation that our local management platform provides for network infrastructure, saying things like "sounds like Uplogix would replace me!" The reality is often that the innovative companies deploying Uplogix create more time for their skilled network professionals by allowing them to shed many of the everyday Level 1 and Level 2 actions to tackle other problems and improve the overall network.
One thing is for certain change is the only thing you can really bet on in IT.