[fsn_row][fsn_column width="12″][fsn_text]
Deciding how to network IoT devices has about as many options as there are IoT applications. A recent NetworkWorld article had a good survey of variables that network architects need to pay attention to when it comes to connecting the IoT.
Like any network, initial considerations center around the use case of what's connected to the network. IoT applications vary with requirements for reliability, bandwidth, latency, power and cost.
For example, a modern police car is an IT-intensive mobile office with PCs, tracking, cameras and sensors. This requires bi-directional high speed, security and reliable connectivity.
Hospitals use connected medical devices with location tracking for rapidly finding the nearest device. This requires low speed reliable connections for a variety of devices.
Data volume is a key consideration for a set-up that might require local processing or processing at an aggregation point instead of sending all data to the cloud for processing. This model reduces latency for more time-sensitive applications and can focus the deployment of higher-level connectivity between aggregation point and cloud, while limiting requirements on connectivity between IoT device and the hub. This does creating more distributed infrastructure to manage with higher level gear in the field at the aggregation points.
SDN and NFV for networking IoT devices could have some important implications? The article summed it up:
The advent of software-based networking technologies, such as SDN, NFV and SD-WAN, give network architects new tools to design flexible networks. NFV and SDN provide technology to customize the network to IoT requirements. NFV offers many virtual network functions (VNFs), including routing, security, gateways and traffic management that can be combined to deliver the customized network services required by IoT.  SDN delivers the centralized managed capabilities to orchestrate and manage the data flows on highly distributed IoT networks.
Using Uplogix while networking IoT devices
Uplogix deploys intelligent monitoring and automation appliances to where network infrastructure resides to improve security, performance and availability. It's like having a virtual onsite technician. A machine to manage your machines.
Whether your IoT infrastructure uses IP IoT Gateways and Zigbee, SCADA RTUs/PLCs and Modbus, wireless LAN, cellular, satellite, plain old telephone or some combination of the above, Uplogix can ensure availability while keeping operational expenses under control.
Many of our IoT applications have been bringing out-of-band management to aggregation points in the energy industry, as well as deploying as a component in a complex system of devices like an automatic teller machine or ATM.
On-Demand Webinar: Preparing your network infrastructure for the Internet of Things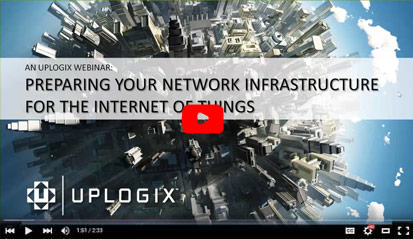 The exponential expansion of end nodes from the Internet of Things (IoT) will break the underlying infrastructure (technically and/or from a financial perspective) without similarly exponential improvement in managing network infrastructure. Learn how Uplogix will help enable the IoT revolution.
[/fsn_text][/fsn_column][/fsn_row]