The chief architect of a global top-20 telecom says bringing agility to managing legacy network assets is a key pillar to their strategy to reduce network complexity along with increasing automation to eliminate the human touch.
Speaking at an event this week, Neil McRae, chief architect for British Telecom, said that BT's goal is to make sure that any piece of technology can be added to the network within five days.
"It's all about keeping everything agile — if it faces the network, touches the network, it has to be able to move in five days or less," said McRae, "The idea of something being delivered to me in a nice brown box from Nokia and Cisco and it going into the network delivery-plus-five — that is what we have."
McRae concluded his remarks by advocating the end of the NOC as we know it. By reducing network complexity, the NOC would be replaced by technicians with spare parts dispatched as needed by automated processes.
These dreams of reducing network complexity are well within the reality of what Uplogix is doing today.
Easier Deployments with Less Travel
With Uplogix rolling out standard sites can be greatly simplified. Device configurations are stored locally on an internal solid state drive and shipped to remote network sites. Uplogix powers up and connects via an LTE cellular modem to the customer's MPLS cloud. Technicians in the NOC see the new site in the Uplogix Control Center and can bring devices online remotely. The benefits of using this feature to bring up gear in new sites are that you can bring up more sites more rapidly while keeping expert technical staff in the NOC instead of traveling.
Rapid diagnosis and recovery
Uplogix can automate common configuration management tasks, reducing downtime by eliminating common errors introduced by the manual execution of tasks like OS upgrades, password updates, and all-important device configuration changes. IT administrators receive real-time data to manage, configure and control all network devices connected to Uplogix appliances. For example, the ability to reliably push IOS updates to Cisco routers and switches saves the need to send admins to each remote site. With mass updates, admins can schedule once to update similar devices with the confidence of SurgicalRollback. This "safety net" automatically rolls-back devices that don't update successfully, avoiding downtime and allowing admins to manage the exceptions, not touch every device individually.
Bare metal restore
Network equipment doesn't run forever. Often when a device has an issue not solved through initial troubleshooting, a replacement device is sent to the site and requires a skilled technician to bring it back online with the correct configurations. Uplogix customers can use the bare metal restore capabilities to make bringing a replacement device online as simple as swapping the cables. In the event of a bare metal restore, a new device plugged into the network is identified and has the defined OS and configuration installed automatically by Uplogix.
Reducing network complexity:
Network Automation Solution Brief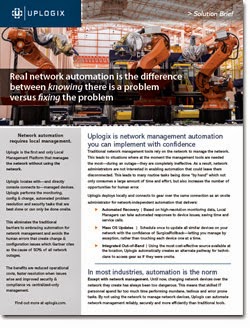 Real network automation is not just knowing you have a problem to fix— it's knowing that the problem was already fixed for you. Learn what Uplogix can do for your network by downloading the Network Automation Solution Brief.