At this week's Oracle OpenWorld conference, CEO Mark Hurd said that the move out of the corporate data center and full-on into the cloud will provide the innovation dollars CIOs are desperately looking for.
Hurd said IT groups are forced to spend about 80% of their budgets on old, inefficient IT infrastructure and applications, including support, upgrades and patches. This leaves about 20% for innovative new development. That is, until the CEO comes calling with demands from the frightened board of directors to ensure that the corporate infrastructure is secure.
"When the CEO is cutting expenses [do] you think they say in order to cut expenses 'let's shut down the order system?' — no, they cut expenses by saying let's shrink the innovation budget," said Hurd. "It puts enormous pressure on innovation budgets which are already under pressure."
Of course, Hurd wants Oracle to run all of the cloud business for every company, so it's in his interest to tell everyone to move to the cloud. In reality, it's not that easy. For some time at least, most companies will continue to operate their own data centers. Maybe they have proprietary applications or critical data that they aren't willing to let out of their complete control.
This doesn't mean they aren't looking for ways to shave some points off that 80% to recapture funding for innovation. Attention stressed CIO: Uplogix can help!
Improving server monitoring, access, and automation with Uplogix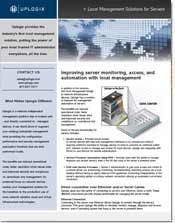 SOLUTION BRIEF | In data centers, Uplogix continuously monitors network devices and servers to proactively identify, diagnose and resolve potential problems and security threats autonomously—ensuring the highest level of data center availability and security.
Uplogix in the data center
Uplogix brings reliable automation to the data center. Routine data center maintenance tasks can be drastically reduced, leading to greater standardization and lower support costs.
The Uplogix platform has been designed to address the challenges of data center networks by:
Providing a safety net by quickly pinpointing and recovering from erroneous configuration changes via the transaction-based, SurgicalRollback™ feature, preventing unscheduled downtime
Rapidly reducing the MTTR from an outage through automated, rules-based diagnosis and recovery
Removing the need to manage network-connected devices over the network through management automation and secure out-of-band access
Protecting and ensuring security policies through a robust authentication, authorization and accounting model (AAA), and customizable user access controls
Maintaining consistent, best-practice procedures for manually executing or automating hundreds of routine maintenance tasks including configuration, patch and policy management—which leads to cost savings, higher uptime and increased management security
Hurd is right, as long as investors want CEOs to grow earnings and cash flow, CIOs will face many challenges including running data centers or moving them to the cloud. The big picture is that CIOs have more levers to work than cloud or no cloud. They can reclaim some of their innovation money through innovative ideas like Uplogix that make their data center operation more efficient.