If you were caught up in Winter Storm Jonas over this past weekend, you likely didn't venture beyond the driveway or sidewalk you were shoveling. With millions snow-bound on the east coast, the federal government in the nation's capital shut down from noon Friday through Tuesday. It's the kind of weather that makes a person appreciate a cup of hot chocolate and secure remote access to network infrastructure.
With a number of customers impacted by the inclement weather, Uplogix is happy to provide access for IT professionals to gear from financial data centers near a snowy Wall Street to federal offices and facilities in Washington DC. It's the same secure remote access, monitoring and network automation that connects satellite providers to drilling platforms at sea when the weather is foul or fair.
It's out-of-band the way you want it
Uplogix Local Managers deliver the widest array of on-demand WAN alternative network connection options including dial-up, cellular, fiber or satellite modems provides a reliable management connection to remote gear. There is also a secondary Ethernet connection that can be used for an out-of-band connection such as a DSL modem. This connection can also route primary traffic using the WAN Traffic Failover (WTF) feature and a high-bandwith OOB connection like an LTE modem.
With the Uplogix rules engine, you can also configure multiple options and use rules to decide which option to use and when.
Secure remote access with WTF
Uplogix can act as a backup cellular router by sharing its out-of-band cellular LTE connection with the local router/firewall/WAN accelerator.
How WAN Traffic Failover Works:
A WAN router experiences an outage (A) that prevents it from sending local traffic back to the headquarters via its WAN.
Both the router and the Uplogix Local Manager (LM) detect the outage. The LM brings up its LTE cellular out-of-band connection when the Pulse test fails and the router changes its default route to be the Uplogix LM (B).
The router sends all (or select) traffic through a VPN over the cellular network back to the NOC while the WAN is down (C). The LM builds a VPN over the cellular WAN back to the NOC that is used for all network management traffic to and from the remote site.
The router and the LM continue to monitor primary WAN connectivity. When the router detects that the WAN connection is restored, it changes the default gateway for its traffic back to the WAN. When the LM detects a healthy WAN connection, it tears down its VPN and the cellular LTE out-of-band connection, and returns to communicating over the WAN.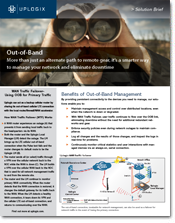 For more information,
download the Out-of-band Solution Brief
.
#19275550