So what does a 30% increase in Internet-connected devices in one year look like? Try 5.5 million new devices added every day. Gartner says the one of the big winners in this expanding market will be Internet-of-Things services like design, installation and operating contacts.
Consumers will deploy most IoT devices, but businesses will account for the largest spending. About 4 billion devices will be part of the consumer sector in 2016, while enterprise "cross-industry things" will account for just over a billion. Gartner defines a cross-industry thing as devices used in multiple industries like a light bulb, versus the vertical-specific smart devices geared toward more singular functions like a tracking device for a shipping container.
"Connected things for specialized use are currently the largest category, however, this is quickly changing with the increased use of generic devices," said Jim Tully, a Gartner analyst. "By 2020, cross-industry devices will dominate the number of connected things used in the enterprise."
Despite concerns about interoperability between systems, potential inability to deal with the massive amounts of data and potential security issues, IoT is expected to have a potential economic impact of $4 trillion to $11 trillion annually by 2025 according to a McKinsey Global Institute report.
From automating the startup of a new ATM and troubleshooting to ensuring that sensors and SCADA gear keeps a pipeline operational, Uplogix has deployed machine-to-machine management for years. The IoT will only be as good as the network infrastructure it relies on. Uplogix delivers secure, intelligent machine-based management that enables scaling of the network management functions required to achieve the promises of the Internet of Things.
Check out the on-demand webinar Preparing your network infrastructure for the Internet of Things.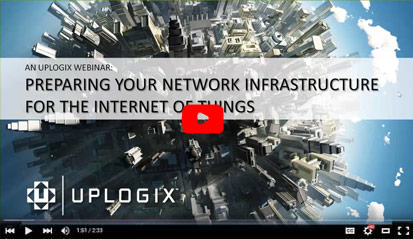 The exponential expansion of end nodes from the Internet of Things (IoT) will break the underlying infrastructure (technically and/or from a financial perspective) without similarly exponential improvement in managing network infrastructure. Learn how Uplogix will help enable the IoT revolution.