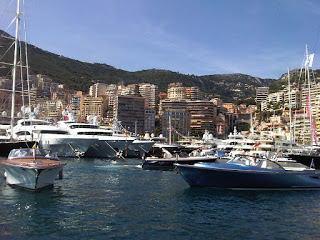 The view this week at the Monaco Yacht Show.
Uplogix might have "cut its teeth" in maritime VSAT in the energy industry with deployments on drilling platforms from the North Sea to the Gulf of Mexico to the Niger River delta and on the support vessels servicing them, but the value we bring to the yachting market is fairly similar.
For luxury yachts and cruise ships, form may not always follow function, but today's vessels aim to provide the same connectivity that passengers are familiar with on shore. Always-on internet access through stabilized satellite antennas means that a yacht has many of the same networking devices and support headaches as a branch office with the added challenges of mobility across the 70% of the earth's surface covered by water.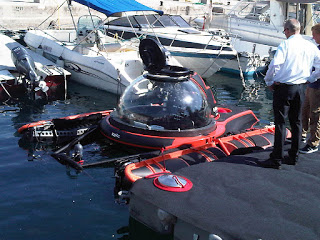 What luxury yacht would be complete without
it's own submersible?
This week at the Monaco Yacht Show, Uplogix has been talking with yacht owners and technology vendors about the benefits of Local Management at sea. On many luxury yachts, access is very limited and tolerance of technical issues and downtime is even tighter. No one wants to cut a trip short for a service call, or settle for slow download speeds when they are equipped for higher bandwidth. And the chance that a vessel sales with a satellite and/or networking expert on board isn't likely.
Here are some reasons for a service provider to put Local Management into a luxury yacht today:
Lower Service Costs
Troubleshooting with VSAT users in the
field is challenging and expensive. Often the only resource techs have
to work with is from the users on the boat. If they are unable to fix
the problem over the phone, an expensive site visit becomes necessary
and downtime and missed SLA's drag on. Uplogix reduces this pain and
expense with:
Persistent access to remote gear

Secure access both in- and out-of-band
Reduce site visits with remote diagnostics and automated remediation
Use of direct-access device tools remotely over an out-of-band satellite connection
Local storage of config and OS files
Troubleshoot more rapidly

Key parameters are converted to human-readable format
Device information is stored for forensic evaluation
Improve Service Levels
Customers expect their gear to work when they need it. Uplogix brings unprecedented functionality to help ensure you deliver.
Proactive alerting

Devices are monitored locally every 30 seconds without sending any traffic over the satellite link
Receive an email or text message when specific events occur
Service Level Verification

Local monitoring of dozens of quality metrics, including voice call quality, satellite signal verification
Advanced Antenna Automation
The
tight integration between Uplogix and antennas makes it possible to
automate functions like blockage zone detection and retargeting to a new
satellite based on pre-set thresholds.
Don't have a yacht? No problem. We don't have one either. But we're excited that our gear is deployed on them and increasing network uptime while lowering support costs. For more information, check out some of the case studies on the Uplogix website.