The latest version of the Uplogix Remote Management Operating System (RMOS) is now available.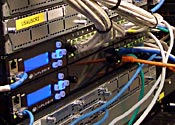 A pair of Uplogix Local Managers in a lab at Uplogix headquarters in Austin.
The v4.3 release has numerous new features including hardened cryptography for FIPS 140-2 Level 2 certification, IPv6 support, expanded VSAT drivers and more.
FIPS 140-2 | The enhancements made in the release to the already-significant security features in RMOS meet or exceed government standards for the protection of data and information captured and stored by Uplogix appliances. Additional improvements to the physical appliance itself include tamper-evident seals and visual obstructions. Read more about FIPS certification.
Future Proofing | New IPv6 support allows Uplogix to support IPv6 addressing schemes. While IPv6 deployment is still in the early stages, Uplogix appliances are ready for the increasing adoption of the internet protocol.
Expanding VSAT Support | The addition of an advanced driver for the SpaceTrack antenna system expands the suite of enhanced support for antenna controllers, along with improvements to existing advanced drivers for SeaTel antennas and iDirect satellite modems.
Packet Capture | New functionality for capturing of data packets crossing the network gives Uplogix appliances additional data for automated management of network devices. In addition to existing service level verification (SLV) testing done by the appliances, packet capture aids in uncovering root causes of network problems, identifying security threats, and ensuring compliance.
NX-OS Support | Uplogix is a Registered Cisco Developer, and with RMOS v4.3, delivers additional advanced support for Cisco. For appliances deployed in data centers, the NX-OS support brings network automation to high availability operations.
Easy Out-of-Band Connections | A new single-click dial from the Uplogix Control Center feature makes it easier than ever to connect to Uplogix appliances over an out-of-band channel with one-click access.
In addition to the software update, there are new options on the hardware platforms. Both the Uplogix 3200 and Uplogix 430 appliances are now available with the option for a solid state drive, and the 3200 is available with an optional fiber network module.