Automated Out-of-Band Management
Uplogix out-of-band management ensures IT network resilience and business continuity. Find out how we improve network management with secure access and built-in automation while locking down network infrastructure from cybersecurity threats.
New Challenges Faced by Enterprises
Did you know 7 out of 10 organizations experienced at least one general crisis in the last five years (PwC: Global Crisis Survey 2019)? Add to this the global pandemic that forced the majority of businesses to relocate employees (including network teams) home to a distributed digital world. Many companies came to the harsh realization that their existing network management system is neither resilient nor reliable.
As businesses navigate the digital world, top priorities for network managers and decision-makers became business continuity and network resilience.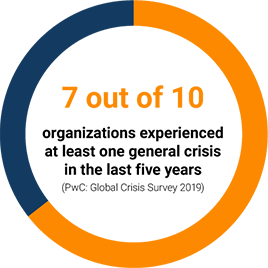 Out-of-band Management:
Your Path to Network Resilience
Business continuity ensures your bottom line, but IT resilience is a foundation for survival. So, what could you do to increase continuity and gain resilience? The answer is automated out-of-band management, a secure, remote network infrastructure management solution.
The enterprise network is the pillar of any large organization, especially those in the finance, energy, government, and healthcare industries. Consequently, you must ensure your network can continue to perform when disruptions happen, and that you can restore full connectivity in the shortest amount of time possible.
Therefore, you need out-of-band management.
An advanced out-of-band management platform combines an independent, intelligent console server with enterprise-grade network management software.  It maintains your organization's management connections even when the primary network goes down. With continuous monitoring of managed devices, out-of-band management alerts can take automated remediation actions as well as enabling your network manager to access, diagnose, repair, and restore the primary network via secure remote access and local recovery tools.
Unlike Any Other Enterprise Network Management
The most significant difference between the Uplogix solution and our competitors is our built-in automated actions that match IT runbooks and a data-driven decision-making system that hardens your network.
Unlike other solutions, Uplogix manages and recovers networks when issues arise without being dependent on the network itself. Our model that combines continuous network-independent monitoring with smart automation will increase your network resilience and reduce the impact of business downtime.
Uplogix was founded on the observation that the problem with network management is that it relies on the network itself to operate. To really manage network infrastructure, you need to operate from an out-of-band perspective—and more than just as a secondary connection to devices.
Additionally, the Uplogix network management solution significantly differs from our competitors' in the following four aspects.
Network Independent Management
Traditional out-of-band management only shows value when the primary network is down. The Uplogix solution decided to take IT resilience one-step further by:
Managing, monitoring, and recovering your infrastructure locally instead of over the network.
Taking reliable actions based on the monitoring results, instead of simply notifying your IT admin to respond to an issue. In other words, we perform as a part of your IT management team.
The Uplogix system connects to managed devices directly via the console port. Our software automatically logs in with a functional user ID and runs commands so it knows each device's state regardless of network condition. Meanwhile, we collect logs and archive configurations and OS files from connected devices for management and recovery purposes.
Uplogix self-tests (including the out-of-band links) so it is always ready whenever you need it. The system also stores and promotes OS and configurations locally and automatically.
Remote, Secure Access
According to the 2020 Cisco Business Resilience Networking Survey (https://blogs.cisco.com/networking/2021-global-networking-trends-report-business-resiliency-takes-center-stage), secure access accounted for 65% of the top 4 IT challenges mentioned by organizations heading into a hybrid or fully remote workstyle.
With work-from-home and work-from-anywhere workstyle on the rise, enterprises must provide a productive and secure environment that's accessible from anywhere whenever a management need arises, so your IT admin can enter the network infrastructure remotely.
Uplogix is a secure, closed appliance whose underlying Linux OS has no root access, eliminating threat vectors possible with an open console server. Our platform is also FIPS 140-2 Level Two Certified, meaning it's secured both from a software and encryption standpoint, as well as including physical security of the device itself protecting against unauthorized physical access.
The Uplogix out-of-band management solution also maintains and enforces AAA with granular authorization and login capabilities regardless of the network's state. We can create secure remote access on LTE, Fiber, Secondary Ethernet Services, and more.
Patented Network Automation
Uplogix is a state-aware out-of-band management system with automated recovery actions. Our network automation solution autonomously logs in and out of the systems and can issue queries for Make/Model and implement corrective actions without human intervention based on data collected from the devices as well as qualitative data collected about the network operations.
We are the only out-of-band management solution capable of data-driven and reliable automation. Our technology is patented and backed by over 15-years of satisfied clients across multiple industries. Our system is designed for the challenges of remotely managing enterprise network infrastructure while reducing cost, complexity, and downtime.
US-Based Technical Support
Uplogix brings our in-house network management commitment to the next level with our US-based technical support available via phone or email 24/7/365. Additionally, our customers also have access to a self-help knowledge base via the Uplogix Support Site.
Open cases over the phone or the support site allow you to open cases via a short, simple form submission that immediately notifies our tech support team about your issues. If your condition goes beyond normal technical support, Uplogix will go the extra mile to ensure you are taken care of, including:
Assisting in the integration and deployment of the Uplogix platform into your network
Creating new rules on the Uplogix Local Manager to meet your requirements
Our customers deploy Uplogix in networks with key federal and financial data. We're deployed on the battlefield to ensure communications stay up and within classified networks to maintain security. Our energy customers need to know that their networks in some of the most remote places on earth are always accessible. Even if your network isn't carrying national secrets or sitting in the middle of the ocean, if it's down you might as well be adrift in rough seas.
The Uplogix Out-of-Band Management Solution
Out-of-band management is not a new concept. However, not all out-of-band solutions are created equal. With the workforce structure becoming more flexible every day with a growing remote working population, network management faces new challenges and requires more resilient, reliable, and responsive solutions that provide access to network managers as if they were onsite while reducing their workload.
At Uplogix, we go far beyond traditional console servers that sit idle, waiting to be useful should there be a crisis. In addition to reliable automation, Uplogix gives administrators built-in capabilities to manage network infrastructure as if they were onsite.
Talk to us about your
enterprise netwoRk management needs.
See for yourself why our out-of-band management solution is unlike any other.
Out-of-Band Management:
The Secret to Enterprise Network Resilience in the Post-Pandemic World