NOTE ON MELTDOWN & SPECTRE EXPLOITS
The Uplogix 5000 and 500 Local Managers are not impacted by either the Meltdown or Spectre exploits. Hardware components in both Local Manager models are not susceptible to Meltdown. Spectre is not a risk because the underlying Linux OS on a Local Manager does not allow program installation, which is required by Spectre to run untrusted code on the machine. Customers running the virtual Uplogix Control Center should work with their hypervisor vendor to make sure that they are adequately patched.
Uplogix is the most evolved out-of-band solution on the market
Elevate your expectations for out-of-band:
We take you off the road.
Truck rolls waste time and money. With a wide variety of out-of-band options including LTE cellular modems that can serve as an automated failover network for your primary traffic, you pick the right option for each site.
We take you out of the danger zone.
By taking secure encryption to the edge of your network, you're protected against internal and external threats and enjoy priceless peace of mind.
We take you to the highest level of performance and reliability.
Identify, isolate and solve network problems before you even know there's a problem. With Uplogix handling the first few pages of your run book, you can focus on the tough challenges.
We take the pain and hassle out of routine updates and config changes.
Our automated configuration safety net lets you confidently make changes remotely plus implement mass changes across your entire network with less effort.
The Uplogix Platform
Uplogix was founded on the observation that the problem with network management is that it relies on the network itself to operate.
To really manage network infrastructure, you need to operate from an out-of-band perspective—and more than just as a remote secondary connection to devices. For Uplogix, intelligent out-of-band means monitoring devices and taking actions directly over the console port, like an onsite technician plugging in a laptop.
We go far beyond traditional "dumb" console servers that sit plugged in and waiting to be useful should there be a crisis.
Beyond out-of-band: Think console server on steroids
Our fourth generation hardware platforms provides all the features you'd expect from a high-end console server plus modular flexibility for the connectivity you need and the out-of-band link you want. Additional options include a version that is FIPS 140-2 Level 2 certified.
The Uplogix 5000 Local Manager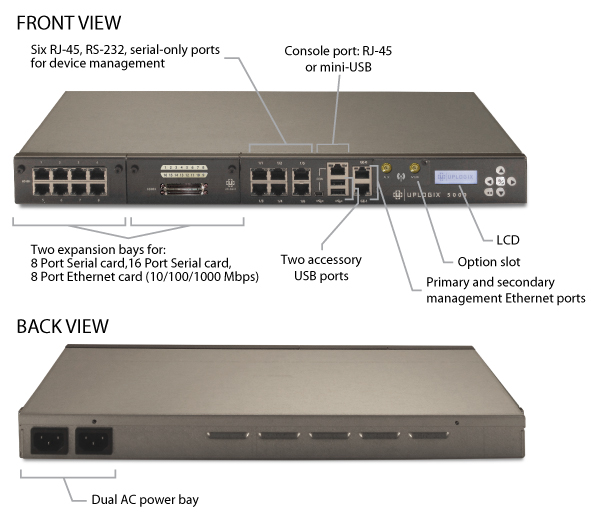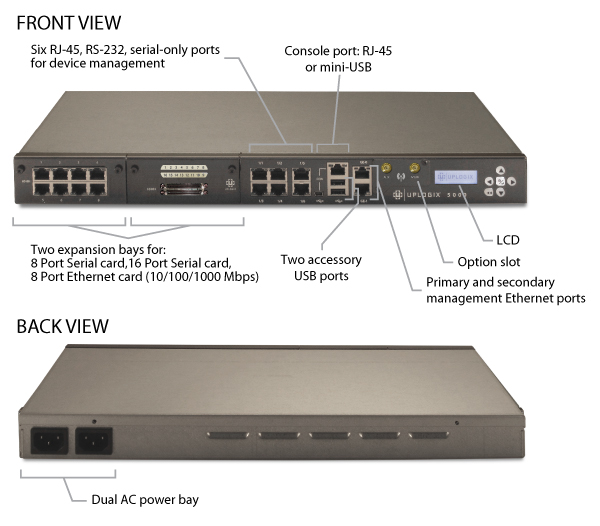 The Uplogix 500 Local Manager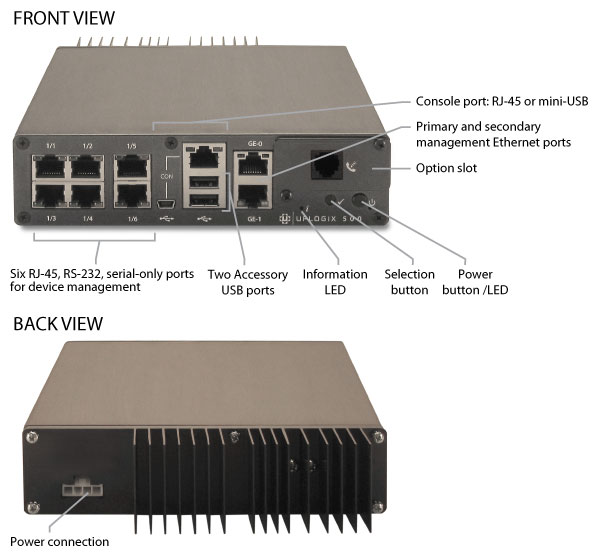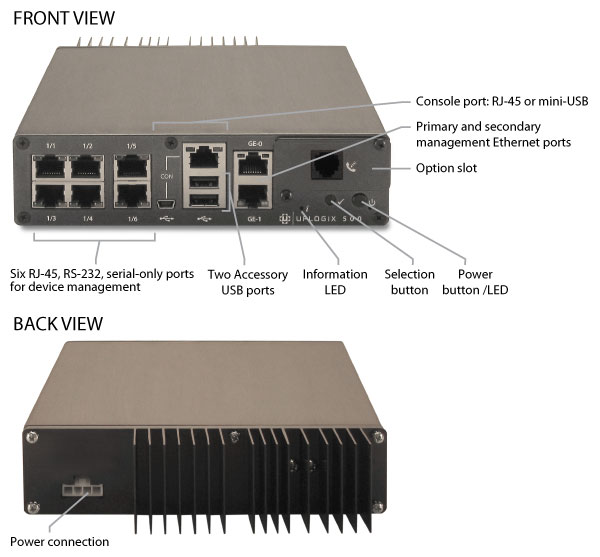 Evolve your existing infrastructure
Uplogix can be deployed through dedicated Uplogix hardware or virtually on a VM hypervisor in combination with a hardware module or console server. These virtual LMs can utilize directly connected console servers, network attached console servers, or locally attached serial ports for management of end devices.
Utilizing current infrastructure hypervisors and console servers decreases the roll‐out time of the Uplogix local management platform. Additionally, hypervisor‐based fault tolerance such as failover may be used to mitigate VM failure.
Our customers deploy Uplogix in networks with key federal and financial data. We're deployed on the battlefield to ensure communications stay up and within classified networks to maintain security. Our energy customers need to know that their networks in some of the most remote places on earth are always accessible. Even if your network isn't carrying national secrets or sitting in the middle of the ocean, if it's down you might as well be adrift in rough seas.
Join the next evolution in out-of-band.
Uplogix was founded in 2004 in Austin, Texas. All engineering, support and marketing efforts are run out of our headquarters on the banks of Bull Creek right on the edge of the Texas Hill Country. Our hardware is built a few hours up the highway in Dallas. Sales follow the opportunities, which span the globe.
Reach us online or by phone at 877-857-7077.
Uplogix, Inc.
7600B North Capital of Texas Highway
Suite 220
Austin, TX 78731