Uplogix is your Network First Responder
Using out-of-band to increase cyber resiliency for network infrastructure
When your network infrastructure is hacked, you need immediate response that is local, automated and able to take action independently of the network itself. Uplogix' combination of network independence, direct connections to infrastructure and rapid automated responses makes it a lifesaving tool for responding to and bouncing back from cyber attacks.
Help when you need it most
A first responder goes immediately to the scene of an accident or emergency to provide assistance. In an emergency, you call first responders because they have rapid response and the tools needed for the situation.
ON THE SCENE
Uplogix takes it a step further by deploying in the rack with your network infrastructure and utilizing advanced out-of-band capabilities and automation to be your network's first responder.
ALWAYS WATCHING
Onboard continuous monitoring by the Uplogix platform provides incident data to factor into triaging the situation during the initial hectic moments of a hack.
READY FOR ACTION
Finally, Uplogix can take action, either automatically or at the direction of network admins. In the event of a compromised network, Uplogix can put the network into a "safe mode" by pushing pre-set configurations (stored locally and encrypted) to limit or lock off network services in moments. As the situation resolves and admins isolate the attack, they can bring the network back up in a controlled and automated effort, whether the network is just in the building, or spread out around the world at hundreds of locations.
---
DEFINITIONS
Cybersecurity
The methods and processes of protecting electronic data.
Cyber Resiliency
The bigger topic of how your business will survive a cyber attack.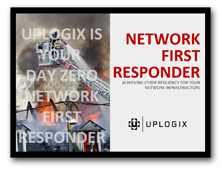 Uplogix: Network First Responder
eBook: Achieving cyber resiliency for your network infrastructure
Uplogix is your day zero first responder when it comes to response and recovery from a network hack. With the secure out-of-band access and automation that you can rely on both as a "panic button" to initiate a lock-down as well as the tools needed for a quick and deliberate recovery.  
It's a Dangerous World Out There
And it's more than data theft at risk
Businesses are realizing that as important as their cyber defenses are to keep attackers out, eventually there will be a breach and they need strategies and tools for response and recovery. Forward looking CISOs are thinking beyond data security to networks security and ensuring their plans for business continuity are robust.
Network resiliency means stopping the immediate threat of compromised security by locking down the network or limiting functionality to specific areas, remediation of security controls and addressing the disruption and continuity of business issues the event causes.
Gartner's average cost of downtime per hour
USA - Most Targeted Country for Cyber Attacks
Increase in reported security incidents - DHS
A Panic Button to lock down your network
Cisco says nearly half of the security risk that organizations face stems from having multiple security vendors and products.
It's not too late, but you are already behind the curve
Network security is like a tug-of-war. Every time the good guys make incremental progress, the bad guys come up with something new and powerful to secure the advantage. Deploying Uplogix as a network first responder is like adding people to your side, pulling the rope back in your direction and making your network more resilient.
For more information on how Uplogix can make your zero day a hero day, please contact us:
63% of companies said their organizations lack sufficient cybersecurity staff.