Uplogix for Retail Networks
Stores need reliable, secure and increasingly robust network infrastructure that can be supported from the home office with minimal onsite intervention
Maintaining security whether the network is up or down
Often retail networks have been pieced together over time, with new stores implementing newer technology making a complex system to manage. Additionally, it's usually cost-prohibitive to have skilled IT staff on-site at store or branch locations to maintains, troubleshoot and repair network devices and systems.
To compound these challenges, auditing requirements, such as the PCI Data Security Standard require retailers to be prepared for an audit and to demonstrate compliance with regulatory standards for protecting both their customers' data and internal IT infrastructure.
Uplogix simplifies and automates management of networks with hybrid gear and provides secure out-of-band access for troubleshooting from the NOC, further reducing the need for expensive service calls and extended downtime. In many retail environments, a backup network connection is over satellite. Using the integrated rules engine and local monitoring of network infrastructure, Uplogix can not only monitor status of the backup network and alert when there are issues, but also broker the changeover if and when needed.
Uplogix enables a small IT team to support a 24×7 operation where the network is as
important as the fresh food.
Supporting cost-conscious retail networks
Uplogix provides a network-independent platform that augments the retailer's centralized management tools to reduce operational costs, improve both daily management tasks as well as break-fix incidents, and increase security and compliance. Other key features for retail networks include:
Cost Control | Reduces network support costs by automatically diagnosing and fixing common network device problems within minutes—without IT personnel involvement.
Easy Out-of-Band Access | Secure access functionality provides centralized technical staff fast and easy access to remote gear to reduce the number of site visits required and IT costs overall.
Reliability | With network uptime a key consideration in retail, Uplogix manages the redundancy in store networks, ensuring the devices for both the primary and secondary connections are monitored and functioning.
Uplogix TechTip: Granular Authorization
Mass configuration changes can be scheduled in the Uplogix Control Center and executed consistently by the Uplogix Local Managers as batches, rather than updating each router, switch or server one by one.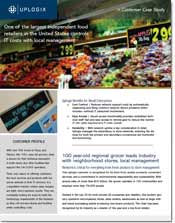 With a network that is critical for operations ranging from produce freshness monitoring to store management, Uplogix reduces network support costs in an industry where cost is king. Redundant network devices and connections are monitored automatically, ensuring they are available if needed.
Subscribe to our Blog and News Updates
Uplogix attacks the challenges of network management from a different angle. Take a few minutes to browse through our Data Sheets, Case Studies and additional resources to see for yourself.