Uplogix Solutions for Financial Networks
Applying out-of-band management in both data center and branch offices to ensure security, compliance while maintaining critical uptime.
Some of the world's largest banks use Uplogix
For federal agencies and the military, network security is a constant challenge. Add on providing high service levels at remote locations—whether it's a lights-out data center, a regional office, or a remote battlefield—made tougher by the lack of onsite IT support staff to monitor, troubleshoot and fix network problems when they occur. Traditional management tools rely on the network to manage network devices, making it costly and time-consuming.
Uplogix solutions deliver the local access and control of a console server, the in-depth monitoring and diagnostics of systems management software, and the intelligence of an on-site technician into a single, integrated platform. The result is the secure out-of-band management required to operate today's complex and distributed federal infrastructures.
Combining secure out-of-band access with intelligent management features that automate support of our Solaris servers and networking devices made the product so compelling that we opted to replace existing traditional terminal servers with the Uplogix appliances.
Uplogix solves the challenge of diverse branch offices
In the enterprise,Uplogix is a critical tool for addressing the challenges of managing branch offices and remote sites with capabilities that lower support costs and increase uptime and network security. Uplogix also complements existing in-band, centralized monitoring systems while providing centralized IT staff with the access, control and enforcement capabilities
needed to manage remote locations:
Maintains management connectivity with distributed locations, even when the network is down or degraded, to provide always-secure out-of-band access to distributed devices
Provides best-in-class problem diagnosis and recovery capabilities to autonomously detect and fix remote issues without having to deploy expensive resources on-site
Locally executes routine remote maintenance tasks like patch upgrades and configuration changes consistently and error-free, significantly reducing ongoing remote support costs
Offers a secure platform for remote management and ensures compliance with internal management policies, regardless of the state of the network
Managing the aftermath of a merger
Mergers are common in the financial world, and often IT groups find themselves managing disparate financial networks. Uplogix integrates with various network devices and server platforms by tying the device's command line interface into the Uplogix unified CLI framework. The unified common interface not only eliminates the need for administrators to remember individual device commands, but also makes automating common management tasks simpler. Devices not currently supported can be managed natively by using the device CLI.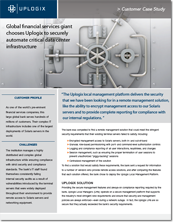 Global financial services giant chooses Uplogix to securely automate critical data center infrastructure. See how Uplogix improves security in one of the largest and most distributed financial networks.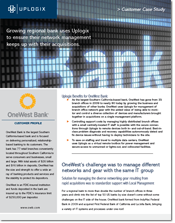 Growing regional bank uses Uplogix to ensure their network management keeps up with their acquisitions. Uplogix simplifies management by serving as a single interface to diverse network gear that is a result of rapid expansions through acquisitions in the banking industry.
Subscribe to our Blog and News Updates
Uplogix attacks the challenges of network management from a different angle. Take a few minutes to browse through our Data Sheets, Case Studies and additional resources to see for yourself.