Uplogix for IoT Management
Uplogix can help you scale your network infrastructure management to be ready for the Internet of Things
Uplogix Local Managers are the management machines for IoT infrastructure
Smart power grids, intelligent buildings, pipeline controllers, medical imaging and as many other Machine-to-Machine (M2M) applications as a vibrant industry can imagine are rapidly changing the world for the better by delivering cost savings, energy efficiency, safety and convenience.
Along with the opportunities IoT presents us comes a vast and growing highly-distributed communications and control infrastructure. Estimates for the number of intelligent, connected, distributed and non-traditional devices in place already today routinely exceed 200 million with forecasts for the future in the billions.  This infrastructure needs to be implemented, managed, maintained and ultimately integrated with the existing management processes and tools of central IT organizations.
Uplogix deploys intelligent monitoring and automation appliances to where network infrastructure resides to improve security, performance and availability. It's like having a virtual onsite technician. A machine to manage your machines. Whether your IoT infrastructure uses IP IoT Gateways and Zigbee, SCADA RTUs/PLCs and Modbus, wireless LAN, cellular, satellite, plain old telephone or some combination of the above, Uplogix can ensure availability while keeping operational expenses under control.
If you aren't looking to automate your network management practices, the coming onslaught of IP-enabled devices is going to break the bank and your network
Challenges in IoT Management
Key Software and Configuration Change Management Capabilities
Automatically and remotely push configuration changes and upgrades without the risk that the changes could result in network outages. Out-of-band automated SurgicalRollback™ restores valid configurations instantly and automatically, plus highlights issues when problems occur.
Automate common, but complex, and therefore error-prone configuration tasks reducing error
Securely update the access passwords on hundreds of managed devices in a single action
There are many challenges unique to IoT infrastructure that Uplogix addresses thoroughly and cost effectively.
Most infrastructure components such as IoT gateways, firewalls, RTUs, PLCs, communications gear and even standard networking gear like routers and switches are  highly distributed and remote, making on-site repairs, changes and upgrades expensive and sometimes dangerous.
Often, IoT communication channels such as satellite or SMS cellular are optimized for low bandwidth, power and cost.  This channel often lacks the bandwidth for the remote performance of management tasks.
A single remote infrastructure element such as an IoT gateway or RTU can control hundreds of devices, making downtime expensive and extremely impactful.
Some of the most valuable IoT applications are mission critical, where lives may depend on proper functionality leading to stringent availability requirements.
Especially in SCADA applications, infrastructure components may not be IP addressable and lack SNMP MIBS, making them invisible to and incompatible with existing centralized management tools.
Some IoT devices and strategies require augmented "local intelligence" to allow for some level of decision making independent of central control.
IoT Management Solutions
With Uplogix you can manage critical IoT infrastructure components like device IP to ZigBee and other gateways, routers, switches, firewalls, RTUs, PLCs, satellite communications gear and in some cases the components of intelligent devices themselves:
Connect directly to managed devices via the console port
Enhance security by locking down remote and on-site administrative access using fine grained roles.  Preserve AAA and complete audit of all administrative actions regardless of network state.
Track and automate remote configuration changes to infrastructure components with a fail-safed system that includes automated SurgicalRollback™
Monitor state and performance of infrastructure components intensively without network impact.  Send device status data to SNMP monitoring systems even when the devices themselves are not IP addressable and lack MIBs.
Automate Support.  Detect problems and take a sequence of automated recovery steps when issues occur, dramatically reducing mean time to recovery (MTTR)
Establish on-demand a secure out-of-band connection via POTs, cellular or satellite when human intervention is required.  Dial in or out based on a rule or upon receipt of an SMS message.
Add intelligence to your system improving its capabilities with flexible rules-based automation.  Improve device autonomy (e.g. circuit switch based on cost, time and location; reorient satellite dishes on moving vessels based on GPS coordinates; power down and back up based on rules) to most optimally meet your unique requirements.
On-Demand Webinar: Preparing your network infrastructure for the Internet of Things
The exponential expansion of end nodes from the Internet of Things (IoT) will break the underlying infrastructure (technically and/or from a financial perspective) without similarly exponential improvement in managing network infrastructure. Learn how Uplogix will help enable the IoT revolution.
Uplogix for SCADA/Modbus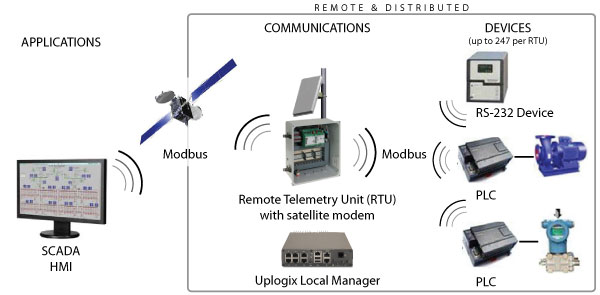 Manage RTU, satellite controller, firewall and other infrastructure
Access (on-demand high bandwidth OOB)
Secure administration
Upgrades and changes including initial deployment
Automated L1 support
Local monitoring
Integrate with SNMP monitoring
Direct or virtually connect to and manage PLCs & RS-232 devices
Uplogix for Advanced Intelligent Devices
Uplogix for IP/Zigbee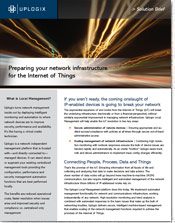 The exponential expansion of end nodes from the Internet of Things (IoT) will break the underlying infrastructure (technically and from a financial perspective) without similarly exponential improvement in managing network infrastructure.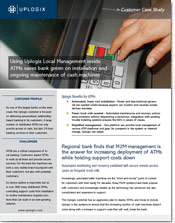 Increasingly, automated teller machines are the "brick and mortar" point of contact for customers with their bank. Uplogix deployed inside ATMs to speed installation, reduce the number of truck rolls needed for troubleshooting and to simplify management.
Subscribe to our Blog and News Updates
Uplogix attacks the challenges of network management from a different angle. Take a few minutes to browse through our Data Sheets, Case Studies and additional resources to see for yourself.