Uplogix Solutions for Data Center Networks
Whether lights-out or just locked up, secure out-of-band access and network management automation makes running a data center more efficient
Data center network management challenges addressed by Uplogix
To protect availability, problems have to be resolved quickly and accurately to minimize disruptions. Outages due to human error—the most common cause of outages—have to be minimized, and when they do occur, the mean-time-to-recover (MTTR) from them has to be swift and efficient.
Security threats take on even more importance at the data center. Systems must be patched rapidly to minimize the impacts of outside threats. Unauthorized changes have to be detected and quarantined quickly to not only ensure the protection of business-critical information that resides in the data center, but also to protect uptime.
In addition, routine maintenance procedures require standardization and consistency to protect system availability and security. Solutions are needed that can quickly and effectively address the availability, security and support challenges that administrators face in managing the data center.
The automated support features of the Uplogix can drastically reduce the time spent on routine data center maintenance tasks, leading to greater standardization and lower support costs.
Key Uplogix features for the data center
The Uplogix platform has been designed to address the challenges of data center networks by:
Providing a safety net by quickly pinpointing and recovering from erroneous configuration changes via the transaction-based, SurgicalRollback™ feature, preventing unscheduled downtime
Rapidly reducing the MTTR from an outage through automated, rules-based diagnosis and recovery
Removing the need to manage network-connected devices over the network through management automation and secure out-of-band access
Protecting and ensuring security policies through a robust authentication, authorization and accounting model (AAA), and customizable user access controls
Maintaining consistent, best-practice procedures for manually executing or automating hundreds of routine maintenance tasks including configuration, patch and policy management—which leads to cost savings, higher uptime and increased management security
Creating scheduled jobs & tasks
In this Uplogix Support Short, learn how to set re-occurring jobs and tasks using the Uplogix Control Center.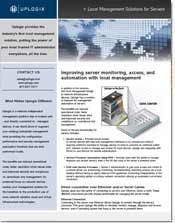 In data centers, Uplogix continuously monitors network devices and servers to proactively identify, diagnose and resolve potential problems and security threats autonomously—ensuring the highest level of data center availability and security.
Subscribe to our Blog and News Updates
Uplogix attacks the challenges of network management from a different angle. Take a few minutes to browse through our Data Sheets, Case Studies and additional resources to see for yourself.