Out-of-Band Access
More than just an alternate path to remote gear, it's a smarter way to manage your network and eliminate downtime
It's out-of-band the way you want it
Uplogix is the most reliable and secure out-band-access solution on the market today, with more options for linking to your gear over a secondary network path.
Uplogix Local Managers deliver the widest array of on-demand WAN alternative network connection options including dial-up, cellular, fiber or satellite modems provides a reliable management connection to remote gear. There is also a secondary Ethernet connection that can be used for an out-of-band connection such as a DSL modem. This connection can also route primary traffic using the WAN Traffic Failover feature and a high-bandwith OOB connection like an LTE modem.
With the Uplogix rules engine, you can also configure multiple options and use rules to decide which option to use and when.
Uplogix offers more user-configurable options for secure out-of-band links: phone line, cellular, secondary Ethernet network, satellite, fiber…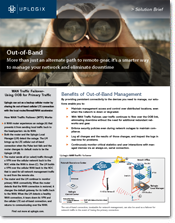 Download the Out-of-Band Solution Brief
One of the most striking elements is Uplogix's management appliance with its unique mix of out-of-band management, in-band monitoring and configuration control for network devices at the edge.
-Enterprise Management Associates
WAN Traffic Failover (WTF)
Using OOB for Primary Traffic
Uplogix can act as a backup cellular router by sharing its out-of-band cellular LTE connection with the local router/firewall/WAN accelerator.
How WAN Traffic Failover (WTF) Works:
A WAN router experiences an outage (A) that prevents it from sending local traffic back to the headquarters via its WAN.
Both the router and the Uplogix Local Manager (LM) detect the outage. The LM brings up its LTE cellular out-of-band connection when the Pulse test fails and the router changes its default route to be the Uplogix LM (B).
The router sends all (or select) traffic through a VPN over the cellular network back to the NOC while the WAN is down (C). The LM builds a VPN over the cellular WAN back to the NOC that is used for all network management traffic to and from the remote site.
The router and the LM continue to monitor primary WAN connectivity. When the router detects that the WAN connection is restored, it changes the default gateway for its traffic back to the WAN. When the LM detects a healthy WAN connection, it tears down its VPN and the cellular LTE out-of-band connection, and returns to communicating over the WAN.