Pain-free routine updates and config changes
From initial provisioning and routine updates to bare-metal restores, Uplogix makes configuration management faster, safer and more automated than ever. The secret sauce is no secret—for reliable config changes you just can't depend on the network.
An automated configuration safety net
"60% of network downtime is caused by human error during device configuration" according to the research firm EMA. There are just too many devices to manage and too many changes to make to those devices on a regular basis in enterprise environments to rely on manual, error-prone, one-at-a-time processes.
Uplogix can automate common configuration management tasks, reducing downtime by eliminating common errors introduced by the manual execution of tasks like OS upgrades, password updates, and all-important device configuration changes. Make groups of like-devices and schedule batch upgrades rather than updating one box at a time.
If a configuration change fails or an admin is cut off mid-change from a device, Uplogix can immediately roll the device back to the last known good configuration using the unique SurgicalRollback™ feature, minimizing downtime in a way not possible with in-band-only software solutions. This process restores the device to working order without affecting other device operations. Uplogix locally stores multiple configurations for each device under management to enable this powerful feature.
See how Data Technology Solutions uses Uplogix to provision and re-provision maritime satellite kits rapidly, remotely and reliably.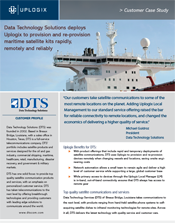 Download the DTS Case Study
Use Uplogix for reliable automated upgrades & changes to network devices . Our built-in automated actions like Push OS and Pull Config reduce human error, the leading cause of network downtime.
Key Configuration Management Capabilities
Lower operational burdens and costs by reliably automating hundreds of tedious, error prone routine change and configuration management tasks that typically require an on-site technician, freeing technical resources for more advanced activities. Uplogix enforces consistent operations by ensuring that change and configuration management tasks are done the right way, every time, minimizing human error and protecting availability.
Decrease the administrative complexity created by heterogeneous network infrastructures by providing a single consistent management interface. Uplogix provides tailored drivers for most popular network devices that can perform an array of common monitoring and configuration tasks on demand, issuing commands and reading CLI prompts and responses in a syntax specific to a given device.
Reduce unplanned downtime by providing a built-in safety net with SurgicalRollback™ to quickly recover and minimize the impact of failed configuration changes. Surgical Rollback™ combines fine grained configuration differencing with a unique "production confirmation" based approach to changes. Any change made is followed by a prompt for confirmation by the technician initiating the change. If no confirmation is received (e.g. if the change brought down the network and the technician's access with it), the change is precisely rolled back. Secure out-of-band remote access also provides for corrective action even if the network is unavailable for other reasons or if this method is preferred.
Enable reliable enterprise-wide execution of configuration changes with a few clicks via the Uplogix Control Center's simple, web-based interface. Common change management tasks, such as distributing patches or password resets, can be scheduled and consistently executed across the entire distributed infrastructure.
Integrate with and complement existing enterprise management systems. Uplogix is integrated with an array of centralized monitoring systems and consoles. Uplogix also allows for the full realization of the potential of your NCCM systems by providing local control and automation capabilities, regardless of network availability so that they can be used with confidence to execute changes.
Uplogix TechTip: Mass Config / OS Updates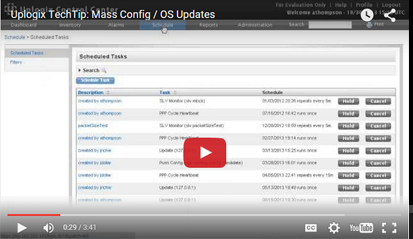 Mass configuration changes can be scheduled in the Uplogix Control Center and executed consistently by the Uplogix Local Managers as batches, rather than updating each router, switch or server one by one.