Uplogix Solutions for Branch Office Networks
Out-of-band management of office network infrastructure allows remote IT staff to identify, isolate and resolve problems faster with fewer truck rolls.
Branch office management challenges addressed by Uplogix
Distributed enterprises depend on branch offices for sales, manufacturing, retail, distribution, and customer support. Despite their vital importance, these remote sites are often the most vulnerable points in enterprise networks due to the challenges of managing at the network's edge.
Unlike most headquarters, remote locations must overcome single points of failure and limited management visibility and control, as well as a lack of on-site technical staff ensuring high IT service levels. Routine maintenance tasks often require a site visit, and outages are common, leading to high support costs and downtime incidents.
Studies have shown the amount of time needed to identify, isolate and resolve a problem at a remote location can take five times or more than a similar problem at headquarters, due to lack of support staff, tools and visibility at remote sites.
Using traditional, network-dependent management tools, branch offices and remote locations are often exposed to security vulnerabilities and regulatory compliance gaps, especially during outages. It has simply not been possible for network operations staff using existing management technologies to guarantee the availability, security, or compliance of branch office environments.
Network management automation you can implement with confidence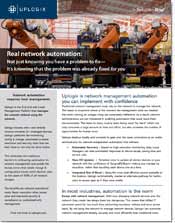 SOLUTION BRIEF | In branch office environments, Uplogix reduces operational costs, resolves issues faster and improves security & compliance vs. centralized-only management.
MTBF and MTTR are important when managing a remote office network, but so is MTTI.
MTTI – The Mean Time to Innocence
MTBF (mean time between faults) and MTTR (mean time to recovery) are important measurements that usually factor into the creation of SLAs (service level agreements) and are especially critical for successful branch office networks. Another important metric within IT groups when it comes to management tools is MTTI, or the mean time to innocence. When there is a problem, this is the idea that it's important to know if the problem is your fault, or lies elsewhere. It's easier to get to a root cause when you can cut through finger pointing early in the event.
Uplogix is a critical tool for addressing the challenges of managing branch offices with capabilities that lower support costs and increase uptime and network security. Uplogix also complements existing in-band, centralized monitoring systems while providing centralized IT staff with the access, control and enforcement capabilities needed to manage remote locations:
Keeps branch offices online, even when the network is down or degraded, by providing secure out-of-band access to distributed devices as well as continuing to move primary network traffic with the WAN Traffic Failover (WTF) feature
Provides best-in-class problem diagnosis and recovery capabilities to autonomously detect and fix remote issues without having to deploy expensive resources on-site
Locally executes routine remote maintenance tasks like patch upgrades and configuration changes consistently and error-free, significantly reducing ongoing remote support costs
Offers a secure platform for remote management and ensures compliance with internal management policies, regardless of the state of the network